The Project Scope:
The historic Texaco Building in Houston, Texas was purchased and converted from an office building to a luxury apartment/condominium building. The owner elected to expand the backside of the L-shaped building up to 14 levels to include five extra two-bedroom apartments per floor. The Texaco Building is actually three different sections each built about 20 years apart: the original 13-story building was built in 1915; a 14-story addition was built in 1936; and then a 16-story wing was added in 1959. DCI's Austin office became the specialty engineer for the expansion portion of the project, which involved a self-standing Diversakore structure filling in the courtyard interior side shaped like an "L."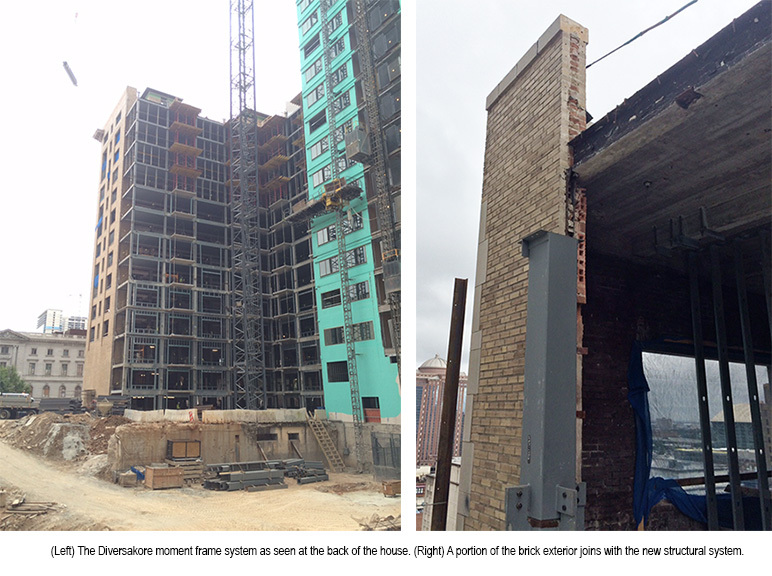 The Diversakore Application:
The expansion portion unifies three different buildings with a framing system of Diversakore columns and beams. The lateral system is an open floor plan utilizing lateral moment frames with no shear walls, brace frames, or horizontal impediments to architectural elements. The flooring system is an arrangement of 6-inch deep long span metal decks with 2.5-inch thick lightweight concrete topping. The self-contained lateral system does not require the strength of the existing building, but the framing is linked to it. This is the first time DCI has completed a building that is entirely a moment frame system using Diversakore product capacity. DCI also pioneered the moment frame connections for the system.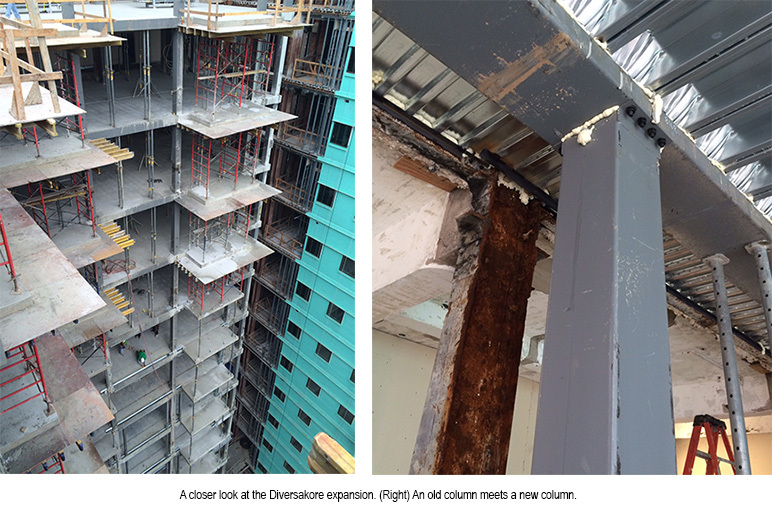 End Results:
• DCI successfully attached the self-contained Diversakore expansion to the existing buildings after overcoming the challenges of various material conditions from those buildings. For example, one of the existing buildings contained discontinued square rebar. The engineers studied old steel manuals to understand its material capacity and devised ways to integrate old structure with the new.
• The Diversakore moment frame system will be able to perform in high coastal wind conditions typically experienced in the region.
• The five extra apartments on each floor have higher ceilings compared to the existing apartment units. The team gained space efficiencies by engineering a thin structural depth between floors.
• The Diversakore column system has an integral fire rated design that does not require additional applied fire proofing rather than matching the building's existing configuration of fire proofed, wide-flanged columns which are wrapped with brick.
Read up about our other Diversakore projects and what our principal Kris Swanson has to say about the hybrid product line.