The Project Scope:
The 1st and Vine Apartment complex underwent a voluntary retrofit initiated by the owner to improve the building's life safety performance. The building is a 10-story, 1970s-era residential complex in Seattle's Belltown neighborhood. The floor beams and the shear walls needed to be strengthened to improve tensile capacity.
The building was built with pre-cast concrete plank floors and a combination of reinforced concrete and masonry shear walls. Adding steel and concrete to the shear walls would not have been possible because of space constraints. Knocking down the entire building would have been a costly solution – and unnecessary. The owner's preference was to keep the building at least partially occupied during certain stages of the renovation.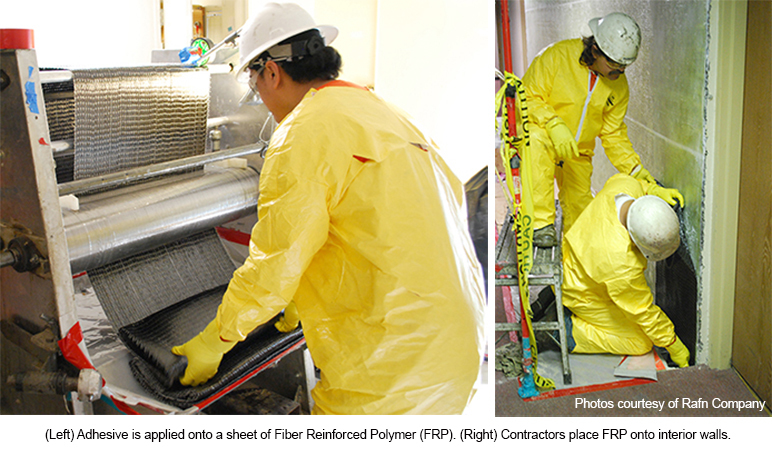 A Material Solution:
Contech Services, Inc. recommended Fiber Reinforced Polymers (FRP) to improve the building's tensile capacity. This material is usually chosen for its high strength to weight ratio, according to Contech's Director of Structural Strengthening Sarah Witt. In other words, for a small amount of coverage, FRP can add significant capacity. FRP is a collection of high strength fibers combined into a polymer matrix. In sheet form, the fibers provide strength by adhering to a surface and the fiber matrix pattern also provides load transfer and environmental protection. Check out Contech Services' website video to see how FRP is applied.
For the 1st and Vine project, sheets of FRP were applied to the floor beams and shear walls of the apartment units. The material is less than ¼″ thick, so it has minimal effect on the loss of space. The material adds shear and overturning capacity to floor and lateral systems. FRP also increases the shear capacity of coupling beams over several doorways. Alternately, if the owner had chosen to strengthen the apartment complex with concrete and steel, the application would have added 4" to 6" of mass onto the existing walls - taking away valuable square footage for tenants.
End Results:
The FRP materials used in the 1st and Vine Apartments provided strength without significant increase in stiffness. Increased stiffness would have affected the distribution of lateral loads and required additional structural elements to be installed.
Using FRP for the project posed minimal architectural impacts to the living spaces and tenants were allowed to occupy the building while renovations were in progress.
Learn more about FRP and how it's becoming a more industry accepted material to strengthen existing buildings.