The civil engineering division at DCI Engineers is nearly 20 employees strong. We have talented people stationed in several locations around the company to handle a wide array of project types and project locations. Believe it or not, we are designing projects in Lakeland, Florida; Bellevue, Washington; and Wailea, Hawaii.
Thanks to a diverse mix of short term and long duration projects, DCI's Civil Departments have always seen a consistent flow of work even during tough economic cycles. Even though only 10% of the firm's projects involve civil engineering, the variety of projects have created a steady revenue stream for DCI. The diversity of project types has always been an important factor in the success of the civil engineering division. Project diversity such as hotels, K-12 schools, light industrial business parks, and even civic projects such as convention centers and a city hall.
The projects vary in intricacy and levels of group effort. And the nature of the work can involve anything from stormwater to underground utilities, public space planning, right-of-way improvements, sidewalks, road design and grading – to name a few examples of civil engineering services. It's hard to describe a typical civil engineering project in layman's terms, especially since each job has its own complex set of requirements and variables, many of which the project team cannot control. The unknowns that can affect a project's progress include jurisdictional requirements, legality regarding urban expansion, existing utility lines that may need to be relocated, extended, or upgraded, street improvements or landscape plans already in progress, etc.
Developers and property owners rely on civil engineers to handle local logistics that happen on, outside, or underneath the building or property. DCI has executed multiple code compliant designs for more than 25 years primarily for private clients seeking property research, entitlement compliance, and construction permitting services for their developments. Sustainable design is almost always a part of our civil engineering efforts these days. It is a part of everything we do, from stormwater management to wastewater reuse and back.
The firm's resilient track record has positioned our civil staff to skillfully recognize how a site interacts with adjacent properties and utility structures.
"The staff's regional expertise adds value to a project since being familiar with regional standards leads to better planning, engineering decisions, and successful permitting," said Civil Engineering Principal and Leader Damon Smith. He oversees the progress of all the civil teams and is primarily in charge of projects in southern California with the help of Associate Manuel Nuno who helps manage the day-to-day project work in southern California.
Associate Principal Darren Simpson heads the Seattle-based civil engineers who support projects throughout western Washington and beyond. Associate Principal Wade Gelhausen directs the Spokane-based civil team covering eastern Washington and more.
Civil project examples in western Washington:
Hotel AC Bellevue: This eight-story hotel project permitting started in 2013. The site is constrained by a private alley to the west, private property to the north and east, and public right of way to the south. The City of Bellevue required 12 feet of street widening and 12 feet of sidewalk dedication which significantly changed the vertical alignment of the private alley. DCI also was the engineer of record for the two-phase SOMA Towers project to the west of the Hotel AC Bellevue site which started in 2009. Both projects are anticipated to be completed towards the end of this year.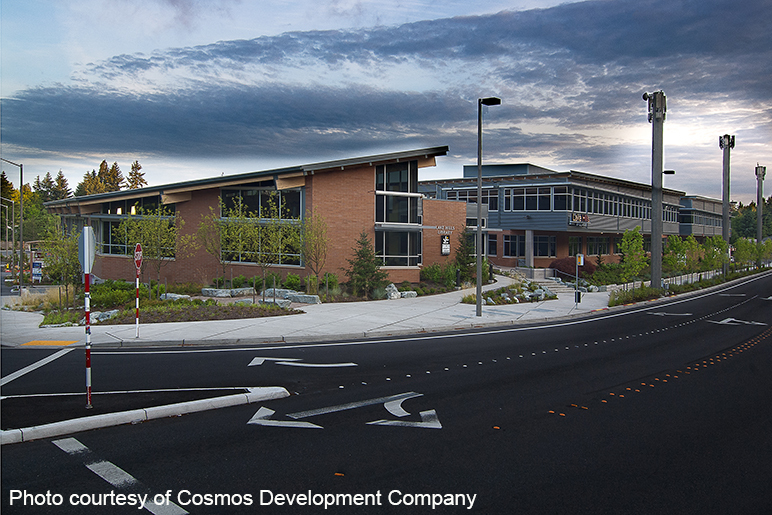 Lake Hills Shopping Center: DCI is involved with this multi-phase, long duration project which consists of 10,000-sf library, 40,000-sf of commercial office space, 69,000-sf of retail space, and 90 residential units. DCI assisted with 690 linear feet of street improvements and helped established an eastbound left turn on Lake Hills Boulevard. Other civil work included redeveloping street frontage and relocating water, sewer, and storm drain utilities. The $80 million project is scheduled for completion this year as well.
Civil project examples in eastern Washington: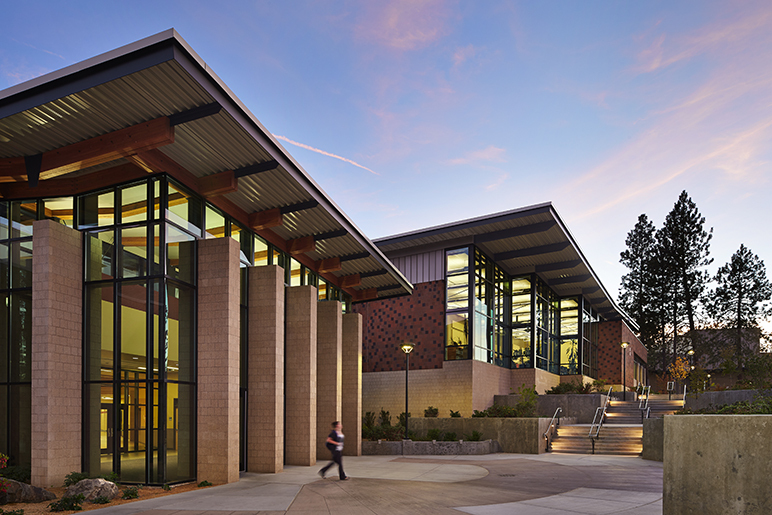 Ferris High School: DCI designed the approximately 210,000-sf addition and modernization to an existing 1,700-student high school in Spokane, Washington. The project includes a 400-stall student parking lot, a 176-stall faculty parking lot, and a visitor parking lot with parent drop-off area. New tennis courts, new softball and baseball field were also designed and constructed as part of this lengthy, four year project.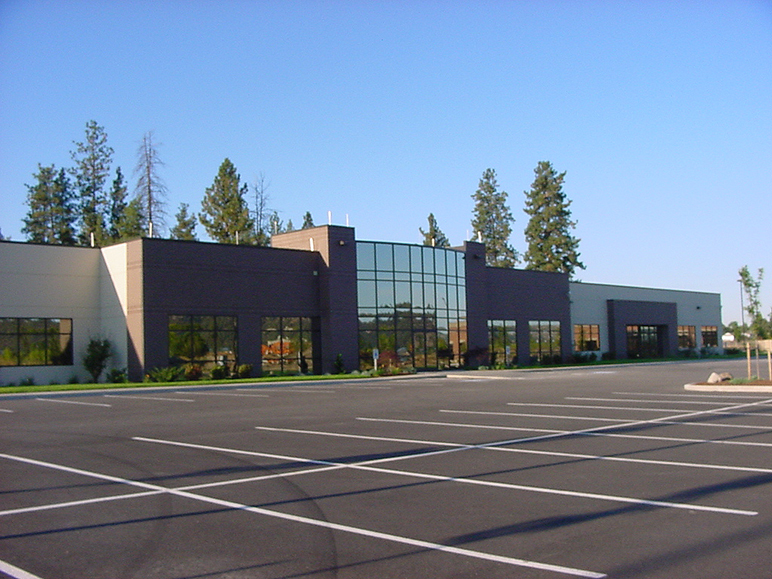 Pinecroft Business Park: For the past 13 years DCI has provided design and construction consulting on this 65-acre light industrial, zoned development park in Spokane Valley, Washington. The property was subdivided into 30 lots and 3,700 lineal feet of public roads, water, and sanitary sewer was designed and constructed to serve the property. DCI Engineers provided civil and structural design for a half-dozen buildings in this office park, too.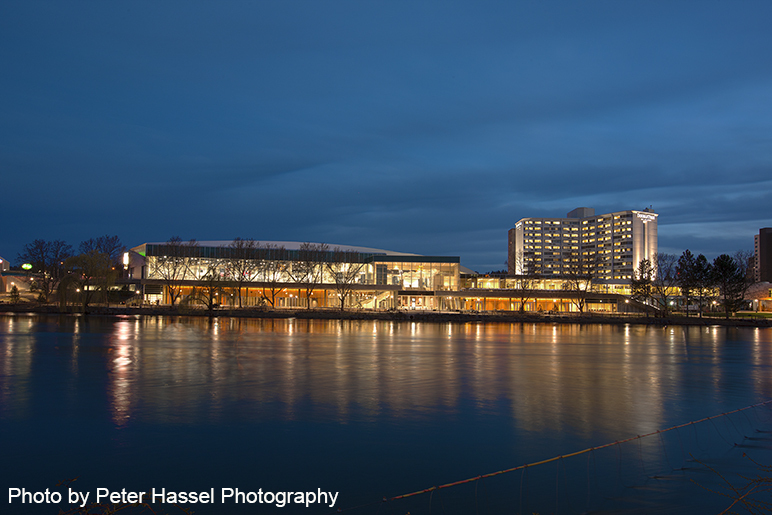 Spokane Convention Center Completion Project: DCI was a part of the winning design/build team that competed for the $50 million dollar, 90,000-square foot addition to the Spokane Convention Center. The expanded facility engages with the Spokane River and Centennial Trail giving visitors direct access to Spokane's signature riverfront environment.
Due to the convention center's location adjacent to the Spokane River, the depth to ground water was shallow. This prevented infiltration of stormwater and complicated installation of sewer and water lines. To address this issue, stormwater was routed to an existing stormwater outfall to the Spokane River. By using an existing stormwater outfall the project did not have to obtain a new discharge permit from the Washington State Department of Ecology, which kept the project on schedule. Dewatering for deeper utility trenches was not feasible due to the flow rate of ground water into the trenches. Instead, trenching for water and sewer mains were kept to a minimum. However, major portions of utility installation was still performed below the ground water elevation. The project even includes a "green" roof, the epitome of sustainable design in the civil engineering world.
Civil project examples supported by our southern California offices: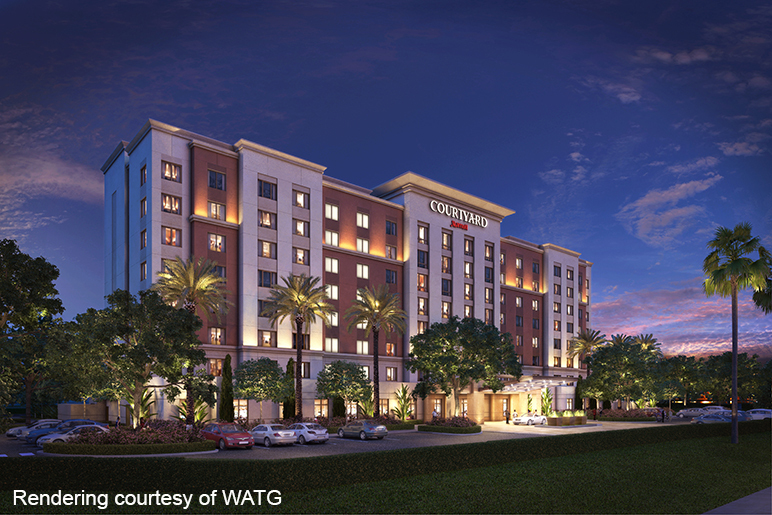 Irvine Spectrum Courtyard by Marriott Hotel: This new, eight-story, 203-room hotel includes an attached 5,000-sf conference center, outdoor pool, patio, putting green, and covered drop-off area in Irvine, California. Surface parking surrounds the hotel. Landscaping and site improvements were constructed throughout the approximately 4.5-acre site. A new driveway approach (right-in/right-out) was designed and constructed onto busy Irvine Center Drive.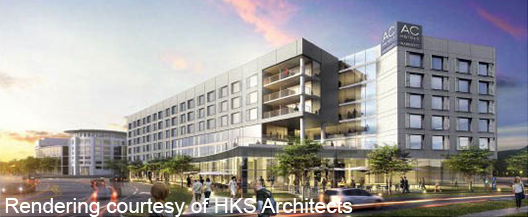 AC Hotel Marriott: This project in Irvine, California is a good example of urban infill. The tiny 1.1-acre site supports a small amount of surface parking (about 40 spaces) surrounding the new, seven-story, 155-room hotel. The remainder of the required parking is expected to be handled off-site and in adjacent parking structures.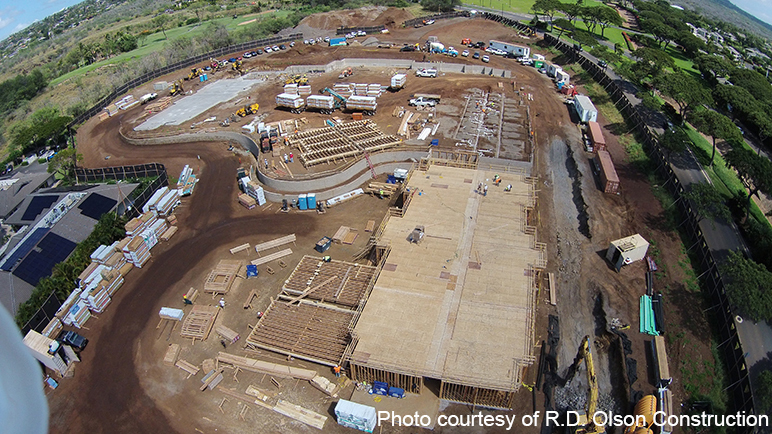 Wailea Residence Inn: DCI designed this new, four-story, 200-room hotel on the island of Maui, Hawaii. Surface parking and a circular drop-off area will are located at the east end of the property and partially surround the hotel. Special landscaping and site improvements were constructed throughout the approximately 6.2-acre site. A new (primary) driveway approach (with a reciprocal access across the adjoining property) was developed on one end of the site and a new (secondary) driveway approach (with a reciprocal access across the adjoining property) was developed on the other end of the site. Additionally, off-site right-of-way improvements were developed in the adjacent streets. The project required permit review by the County of Maui Department of Public Works and the Department of Water Supply as well as other local utility purveyors.