If you are familiar with American newspaper magnate William Randolph Hearst, then you know whatever Mr. Hearst wanted, he got. His life story inspired Orson Welles' classic movie Citizen Kane. The Hearst Castle, a National Historic Landmark in San Simeon, California, was one of many properties he owned around the world, but it became his primary residence later in life. Plans to build the castle began in 1919 with the design skill (and patience) of San Francisco architect Julia Morgan. The remote castle has spectacular scenic views of the Pacific Ocean, but due to its location high in the coastal hills, it is exposed to high wind loads. The castle's ceramic roof tiles were spot repaired over the years, but didn't receive a full rooftop repair and reanchoring renovation until last year. DCI Engineers' San Francisco Principal Jack Laws led the restoration engineering (including removal, replacement and reanchoring) of the ceramic tiles for improved structural performance of 30 separate ceramic tile roofs (totaling 14,500-sf) on Casa Grande, the central building of the estate.
"This project is a good example of how working on existing structures – particularly historic structures – while satisfying and fun, can sometimes be a bit stressful, even if the project appears to be relatively straightforward during design," Jack said.
California State Parks, owner and operator of Hearst Castle since 1957, wanted to preserve as many historical ceramic tiles as they could since a majority of them contained a layer of endangered lichen species. The project team carefully removed and marked tile locations, as well as stored them until reinstallation. They were able to salvage 80% of the original ceramic tiles. Unsalvageable tiles (particularly of unique shape) were replaced with custom ordered tiles from a local manufacturer.
Also, another unique construction constraint was that a resident community of species-sensitive bats lived underneath the tiles and were required to be humanely relocated by biologists. Biologists developed a bat exclusion plan that determined the best time to retrieve them; they also advised attaching acoustical deterrent equipment onto the scaffolding to discourage the bats from returning to roost.
Only when the tile "demolition" logistics were handled could the existing concrete roof slabs be sandblasted for residual tar removal. The general contractor also resealed ornate exterior windows; repaired cracks and spalls; replaced or reinforced ladders and catwalks; and mended exposed reinforced steel.
California State Parks also requested that Hearst Castle maintain normal visiting hours during renovation.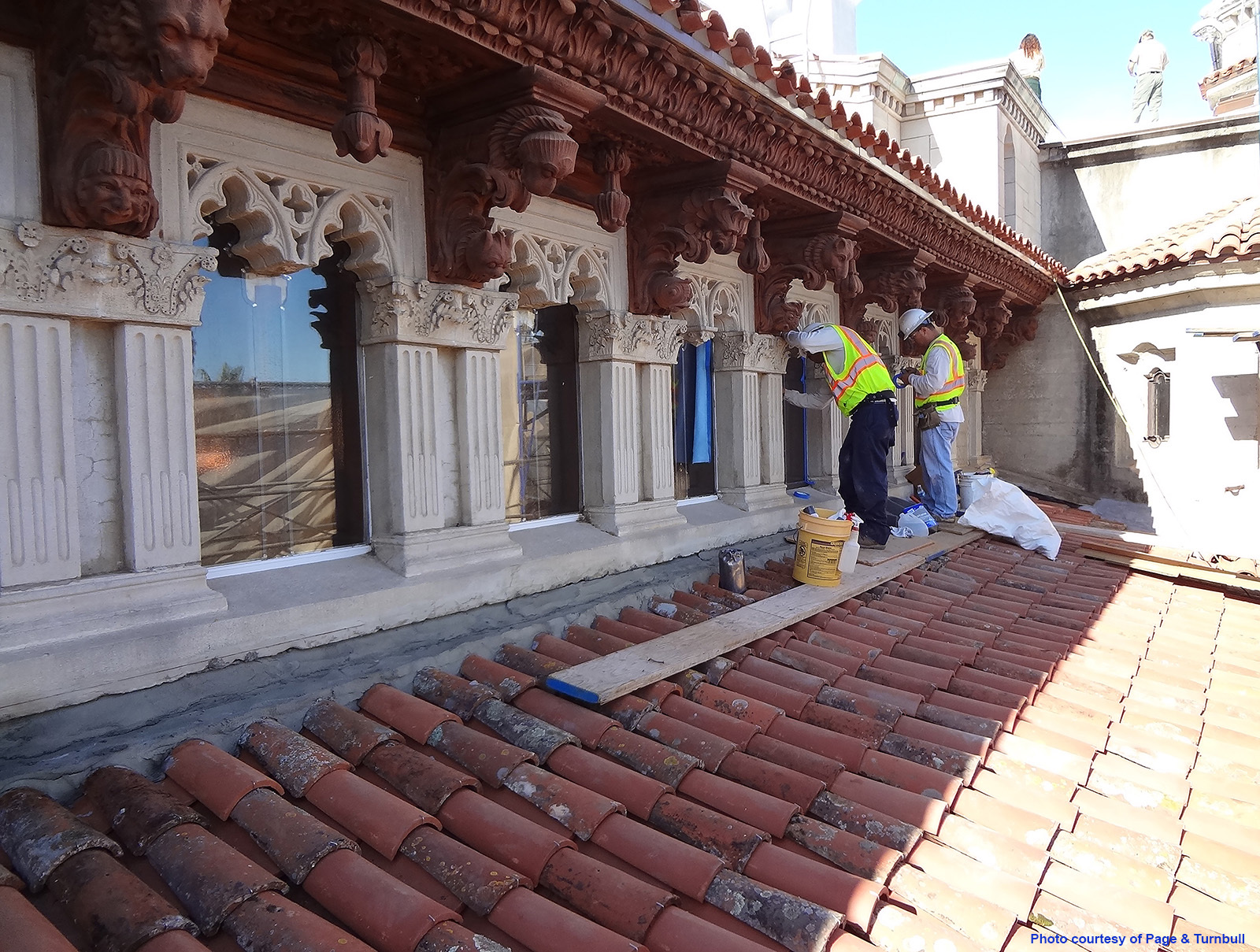 When it came to reanchoring the tile roof as construction began, Jack discovered that he had a unique design challenge due to the thin existing concrete roof slabs. They were found to range from 3 ¼" to 3 ½" thick. These thicknesses made it impossible to drill a representative round core for compressive strength testing prior to construction without potentially damaging the ornate finished ceilings. The contractor also worried they wouldn't be able to control the coring process. Jack and his team selected 3/8" diameter wedge anchors based on what were considered to be conservative concrete compressive strength assumptions. They specified test torque, tension test loading, and test frequency criteria.
Once construction began, the crew discovered the compressive strengths of the existing concrete structural roof slabs were much lower than anticipated. The 3/8" diameter wedge anchors were failing during installation at torques less than the manufacturer's specified requirements. The engineering team determined an alternate ¼" diameter threaded, epoxied anchor could be applied, based on engineering calculations and with the approval of the State of California, however, a more extensive field testing program was mandated in order to qualify this anchor. An extensive field test of more than 300 anchors was conducted and all anchors were tension tested to minimum specifications. The field test results of the ¼" diameter anchors met strength and loading criteria requirements. With the performance criteria satisfied, the general contractor proceeded with the rest of the roof.
The $1.7M project was completed within 10 ½ months and the roof's performance proved successful during San Simeon's recent winter season of rain and high wind.