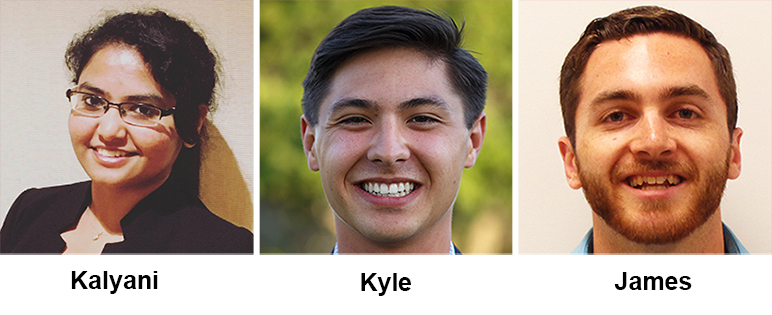 Kalyani Bhakare
Irvine Office
University of Southern California
DCI gave me valuable experience into the design process and overall knowledge about the execution of the building process. My summer internship at DCI Engineers definitely improved my strengths as an engineer.
Now, I have much better idea about the responsibilities of a structural engineer. While actually designing, you discover concepts taught in the classroom are pretty straight forward, but how you apply the concepts completely changes in the practical world. I'm more proficient with professional analysis tools. I'm more familiar with adapting designs to building and design codes. The practical knowledge I gained during this internship is invaluable and I would not trade it for another experience.
DCI has a good work environment and people around are very helpful. You never have to hesitate to ask questions. They will always guide you and assign you work according to your interest. They always have been motivation from the start of the internship. Cheers for DCI!
Kyle Loria
San Diego Office
UC San Diego
DCI has given me the opportunity to contribute to a wide variety of exciting projects in the area. In doing so, I've gradually been given more and more responsibilities, from which I have been able to hone my skills as a practicing engineer. My experience with DCI has been enjoyable and invaluable to my career.
James Mallard
San Diego Office
UC San Diego
My time at DCI was spent working on a variety of projects including concrete, wood, steel, and masonry. From initial design to construction support services, the San Diego office made sure that I saw the many phases of a project when the structural engineer is involved. I had several opportunities to design things independently, but I also always had someone to turn to when I had questions - everyone was helpful and friendly. Overall, this experience prepared me to enter the profession with a better understanding of the structural engineering process and a clear expectation of what work life looks like as a structural engineer.

Anh Nguyen
Portland Office
Oregon State University
My internship at the Portland office's structural division this summer has surpassed all my expectations of what a successful internship should be. I worked on a variety of tasks that are essential in my future career as a structural engineer, such as doing the actual calculations, to going to site visits, and completing descriptive reports. I now understand all the steps that go into completing a project and appreciate the importance of teamwork.
From the first day, I have received a tremendous amount of guidance and support from all the engineers and designers in the office. This was my first real engineering work experience, so I really appreciated the ability to ask questions whenever something was unclear or was a completely new topic for me. I especially valued the many site visits I went on. As I observed the day-to-day design work of all the engineers in the office, I was impressed by the extra hours the engineers put into a project.
Everyone took time to contribute to my overall internship experience and that meant a lot to me. As a future engineer, that mentorship establishes the inspiration for me to continue to pass on my knowledge and experience to newer generations of engineers as I move forward in my career. Ultimately, this internship has showed me not only how to do the work of an engineer, but it has shown me an even more meaningful insight – the impact of mentorship.
Marcus Storvick
Spokane Office
Washington State University
There is something different about DCI Engineers when it comes to consulting firms. Whether it is a small parking lot job or upgrades to wheat factories, DCI always takes care of its clients and project team members. The people here understand that only cohesive project teams can produce successful projects ̶ and that has been amazing to see in action. Not only have I learned more about the basics of stormwater management, hydrology, site planning, grading, utility design, erosion and sedimentation control, and construction support, I was able to experience the full project lifecycle from pre-development meetings to punchlists. My short time with DCI has been insightful, invaluable, and fun. I am truly blessed to have interned at the Spokane office this summer.
Bianca Torres
Seattle Office
Seattle University
My marketing internship at DCI has been wonderfully informative and fast-paced. I have been able to work on so many different types of projects and especially the golf tournament. Everyone is kind and encouraging, especially when it comes to asking questions about different items and projects. The caring nature of the different employees is comforting and I have really enjoyed my time here. At DCI, you learn to bounce ideas off of each other and it's a wonderful environment to be a part of. It's an amazing opportunity, in all.