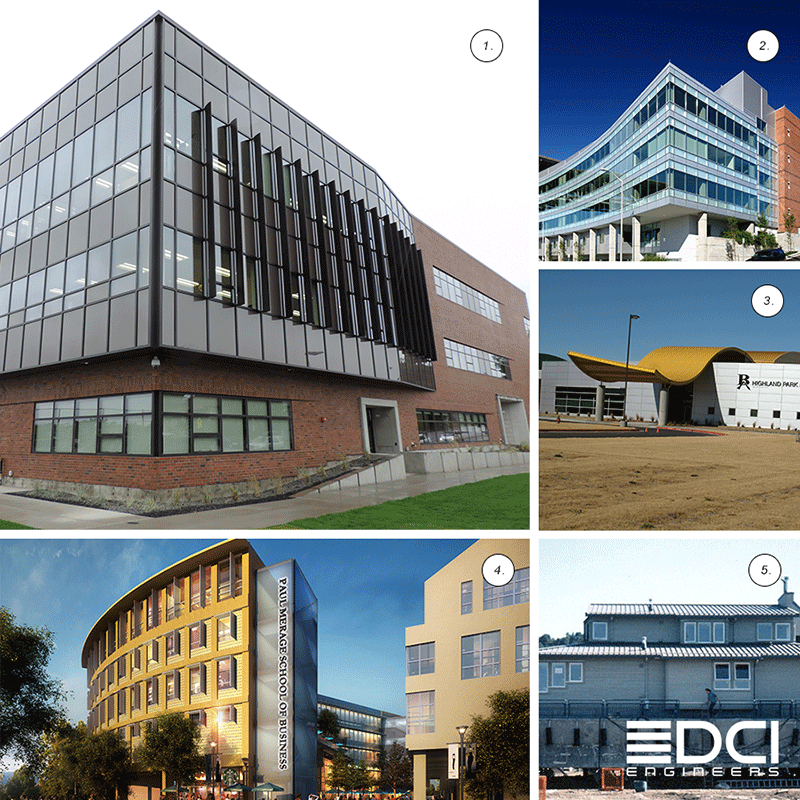 Here are a few examples of school facilities designed by DCI Engineers, including some that are currently in the works:
1. Spokane - North Central STEM Addition
DCI Engineers open-minded and accommodating approach was vital to the success of this visually striking overhaul of Spokane's North Central High School. The 41,450-sf addition, which opened to students Sept. 3, features a "floating" glass wall that wraps around more than half of the building, hanging off the end of the cantilevered floor system. The structural system consists of long-span steel joists supported on steel beams and steel columns. Though the original single-story school building was designed for only one additional level on top, DCI completed extensive structural analysis to verify that it could handle a third story. The project was designed with the future in mind – the external emergency stair tower will be replaced with a sky bridge to the main building in a future addition. The revamped school is being used as a STEM (Science, Technology, Engineering and Mathematics) campus and includes state-of-the-art biomedical and genomic technology. The Spokesman Review recently raved that the school's laboratory "is unlike any other high school facility in the city and rivals some college labs."
2. Seattle – University of Washington – Benjamin Hall
When making design decisions, end-users' needs are paramount. In designing Benjamin Hall, which hosts cutting-edge scientific research by UW students and staff, this meant taking large laboratory devices into account. This 111,000-sf, six-story building has a structural frame designed to handle maximum vibration velocities of less than 2,000 micro inches per second. Benjamin Hall was the first building in Washington State to receive LEED-CS Gold certification and received a Distinguished Project Award for Public Projects over $10 million from the Northwest Construction Consumer Council.
3. Austin – Highland Park Elementary
This ain't your typical stodgy old brick schoolhouse. Kids arriving in the morning at Highland Park Elementary are greeted by an array of vibrant colors, curved architectural flourishes and collaborative community spaces. DCI Engineers was tasked with ensuring the district's unique vision was structurally sound. After several failed attempts to roll the structural steel used in the entryways into the distinct wavy shape that defines the project, DCI elected to switch to custom plate girders to achieve the end goal. The beautiful 32-classroom, 96,000-sf building and its distinct "pods" of classrooms perfectly aligned the district's progressive curriculum, which calls for extensive space intended for group teaching in a visually engaging environment.
4. Irvine- University of California – Irvine, Paul Merage School of Business
Iconic buildings are truly what gives college campuses their distinct identity as generations pass through. DCI Engineers is privileged to be working on one of those sorts of projects at the University of California – Irvine. The five-story Paul Merage School of Business, currently under construction, will feature a state-of-the-art 300-seat auditorium as well as 70 and 90-seat case-study classrooms. A 4,000-sf outdoor "grand terrace" will overlook a new courtyard that will be heated from below. The structural system consists of poured-in-place concrete shear walls and 8-inch post-tensioned floors. The project required extensive work to manage highly variable bedrock elevations.
5. Alaska- J. R. Gildersleeve Floating School
This was one of the rare projects that didn't require a geotech's soil sampling expertise! DCI Engineers helped design this floating school for approximately 25 children of employees at the Gildersleeve Logging Camp, which operates at several different locations up the Alaska coast. The 5,400-sf, two-story wood-framed building was built on top of 9-foot-deep, Styrofoam-filled concrete pontoons, which were built in Tacoma, Washington and floated to Alaska.