DCI's California Business Development Manager Suzanne Clemmer is passionate when discussing the housing crisis affecting almost every large city on the West Coast. Although housing insecurity has been a pressing issue for a number of years, since COVID, the situation has become even more dire with potentially millions of people facing eviction and back rent payments. Lack of reasonably priced housing options for both renters and owners continues to be an unfortunate reality for far too many Americans. And as a consultant in the architectural, engineering, and construction profession, Suzanne's personal interest in encouraging more affordable, very affordable, supportive and transitional housing options is a rewarding focus. Suzanne regularly speaks to housing advocates, non-profit housing developers, and AEC affordable housing designers, who are trying to tackle the country's current housing crisis.
She has seen an uptick of essential housing fee proposal requests in every major city along the West Coast. This year, 20% of Suzanne's fee proposals were for affordable housing projects in Southern California. The main drivers are the lack of safe and affordable housing for all income levels and the homeless crisis. Suzanne shared her perspective about essential housing, especially her observations on how these projects prevail during uncertain economic climates.

Addressing the U.S. housing crisis is a long-term commitment
When affordable housing developers look for financial backing, they must appeal to banks or financial benefactors, then convince them that their project is a worthy investment - attracting tenants and enhancing the neighborhood. Suzanne says they also seek additional or alternative financing, such as applying for multiple grants or relying on voter-approved local tax or bond measures for support.
Affordable housing backers are familiar with the arduous and lengthy formality in obtaining approvals and funding for projects – it's the nature of the line of work, she said.
"It's really difficult to get these projects funded. It often takes years and lots of paperwork to bring these projects to fruition, as well as significant community outreach," she said. "DCI is currently working on multiple affordable housing projects in Los Angeles which are funded by Proposition HHH. The bond measure was passed four years ago by Angelenos, and we are finally seeing movement on these projects in 2020." In fact, DCI's Missoula, San Diego, Irvine and Los Angeles offices are currently working on 12 affordable housing projects in Los Angeles, a handful of which are also receiving funding as a result of Proposition HHH.
To help facilitate the causes, some cities implement ordinances or housing density bonuses, requiring developers to build a certain number of affordable housing units in their new commercial buildings, or pay an in-lieu fee to cover the equivalent construction cost of developing such housing. An example would be Seattle's Housing Affordability Living Assistance program, which developers can contribute to if they want to up-zone their property. The developers of KODA Condominium Flats paid $4M to the City's Housing Affordability Living Assistance program to increase their building from 15 stories to 17.
These are all common strategies adopted by many cities across the country to address the housing issue, Suzanne said. For housing advocates to access those funds, they may need to pitch their project to city officials emphasizing how the development might have easy public transportation access; would hire community AEC workers where the building is being constructed; or will be designated housing for a specific workforce supporting the neighborhood, such as police officers, EMTs, social workers, or service industry professionals.
"I'm always on the side of the affordable housing developers," she said. "Because I know how much effort went into getting these projects completed and the end result is providing shelter to those who most need it."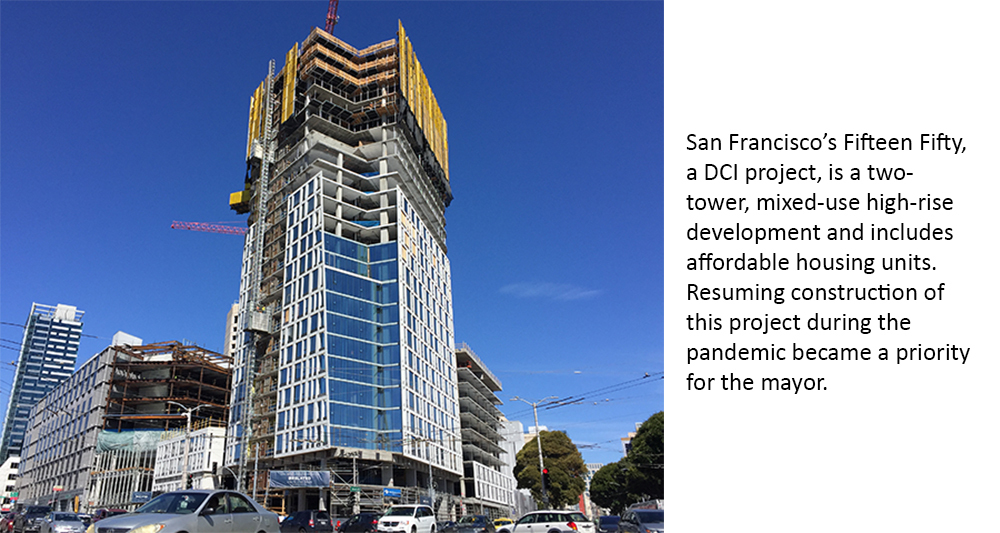 Cities prioritized affordable housing construction during COVID
Last spring, Suzanne watched how cities across the country implemented stay-at-home orders in response to COVID-19 while construction work halted at various levels. Most construction projects eventually resumed in most U.S. cities under social distancing and safety guidelines. Bankers and contractors were left to decide if projects should continue. Suzanne paid particular attention to the news feeds when special priorities were placed on residential projects. One encouraging city order came out of San Francisco when the mayor officially stated affordable housing projects as essential construction work that must continue in the city.
"Projects that had 10-30% affordable units could continue construction, whereas other projects had to stop," she said. "Essential housing projects are getting pushed through because residents need these apartments so desperately."
DCI's project Fifteen Fifty (1550 Mission), a mixed-use tower in San Francisco – which contains market rate, affordable housing, and office space – was allowed to resume construction because of the affordable housing element.
When the state of Washington implemented a similar order, the executive Vice President of the Building Industry Association of Washington Greg Lane supported Governor Jay Inslee's plan for reopening construction job sites with basic safety requirements. In a statement in the Puget Sound Business Journal, Greg Lane added that "housing is in short supply and housing inventory needs to be increased to help families buy affordable homes."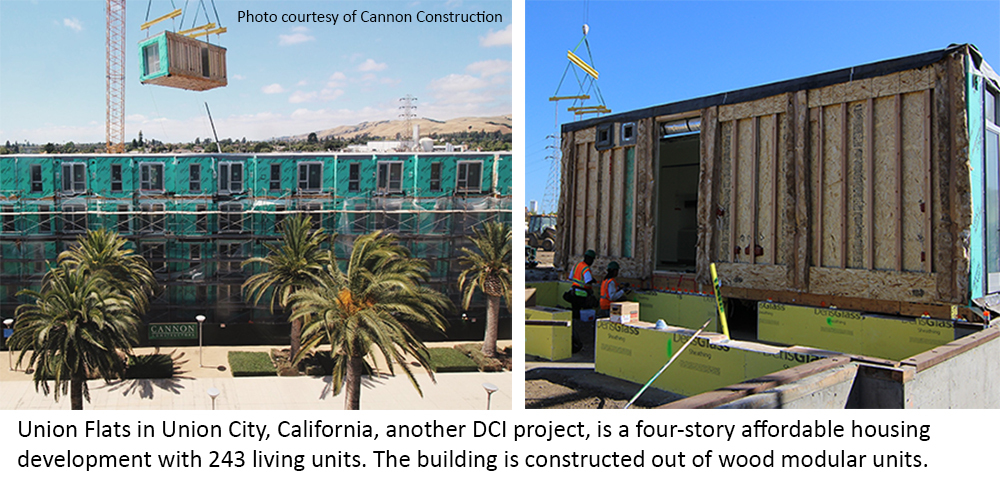 Interest is increasing for modular solutions
This past year has been an especially productive year of proposal writing for both Suzanne and Troy Bean for housing projects in Southern California. Suzanne noticed many non-profit affordable housing developers in Los Angeles County – such as Mercy Housing, LA Family Housing, Skid Row Housing Trust, Universal Standard Housing – looking at modular housing solutions for their residential projects.
Modular or offsite construction is gaining popularity with affordable housing advocates and stakeholders since the method can be an excellent timesaving solution for rapidly building multi-family housing, she said. But there is a learning curve with offsite construction and project success depends upon an experienced project team already knowledgeable about the potential pitfalls. She says it's important to assemble a team that understands the challenges and can reduce potential complications for modular to be a successful and cost-effective design solution.
"There's definitely upfront costs associated with offsite construction, usually a 50% deposit is required to secure the modules. However, banks are getting used to the requirements for modular construction and developers can also secure bridge financing to cover some of these costs," Suzanne said.
"In order to have a successful project, you need to have all the ingredients, which includes a team that has already done a number of modular projects and an owner who is aware of the increased upfront costs and consultant fees, due to the parallel submittals," she said.
With offsite construction, you need to submit to both the local jurisdiction for the site-built construction and there's also one agency specifically for the modules, which varies by state. But once developers understand the process, many of them see more cost savings in addition to the time savings inherent with modular construction, Suzanne said. A way to achieve savings is by simplifying the design process, she tells clients.
"If we can help the design team understand how to be efficient with their modular unit layout and means and methods, everyone benefits," she said.
For example with modular construction, a client can either build modular units on a site-built podium or directly onto a crawl space. The uses for the ground floor may dictate which arrangement would be the right option. Having completed more than 70 modular projects, DCI has the knowledge to make recommendations that will provide efficient layout, simplifying the project and providing cost savings for the owner.
From Suzanne's experience, housing developers who have implemented modular construction bring on team members who already understand the modular construction process – like Urban Core who developed Coliseum Connections. Although some developers who have done a few modular projects might see a 10-15% cost savings, but the time savings – often a 25% savings in the construction schedule, is where you are really seeing gains, Suzanne said.
"Tell a developer they can potentially save $5M and shave 4 months off the construction schedule – that's a successful modular project."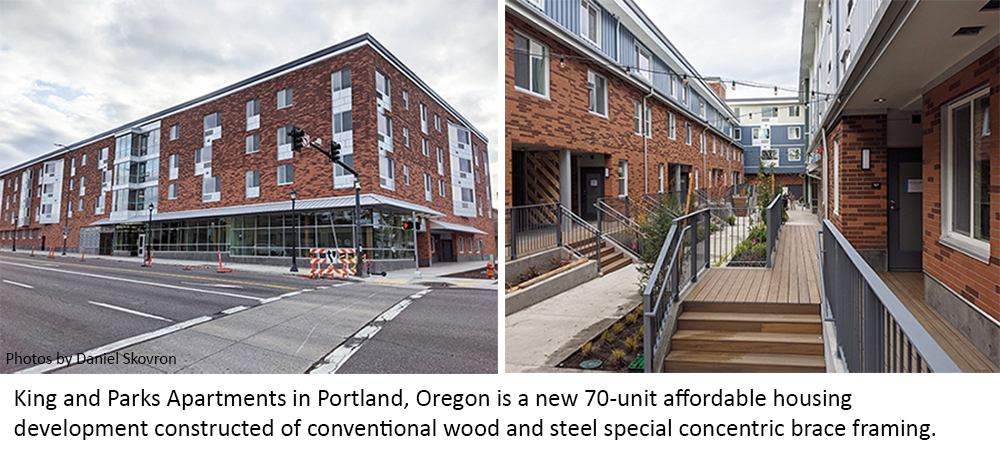 EXTRA! EXTRA!
The affordable housing solution in this country is designated for people earning limited income. Federal subsidized affordable housing is available to qualified applicants earning 30% or less of the area median income (AMI) or who are homeless. City housing commissions may have other subsidized programs for households earning 50% or 80% AMI. The application process involves checking landlord references, credit history, and criminal background.
DCI has provided structural and civil engineering for various multi-family affordable housing developments. Our project portfolio vary from podium-style design to modular construction: Kirkland Avenue Townhomes in Renton, Washington; Twin Lakes Landing in Marysville, Washington; Coliseum Connections in Oakland, California; COMM22 in San Diego, California; King & Parks Apartments in Portland, Oregon; Coronado Park in Eagle River, Alaska; and Equinox and Solstice Apartments in Missoula, Montana.
To learn more about affordable housing, visit USA.gov.
Be sure to read a previous blog post about affordable housing.