Our neighbors up north continue to lead the world in the mass timber revolution. Recently, Project Managers Dean Lewis (DCI's San Francisco office) and Adam Jongeward (DCI's Portland office) attended BC Wood's conference in Vancouver, Canada to learn more about the contributing factors launching the country into unprecedented mass timber accomplishments. During their visit, they attended a guided tour courtesy of Structurlam. The projects ranged from residential, office, educational, industrial, and retail spaces. All of the projects highlighted the use of cross laminated timber (CLT) in floor, roof, and wall applications. The different building types exemplified how mass timber is not limited to any one particular project type. Here is what they learned on their trip.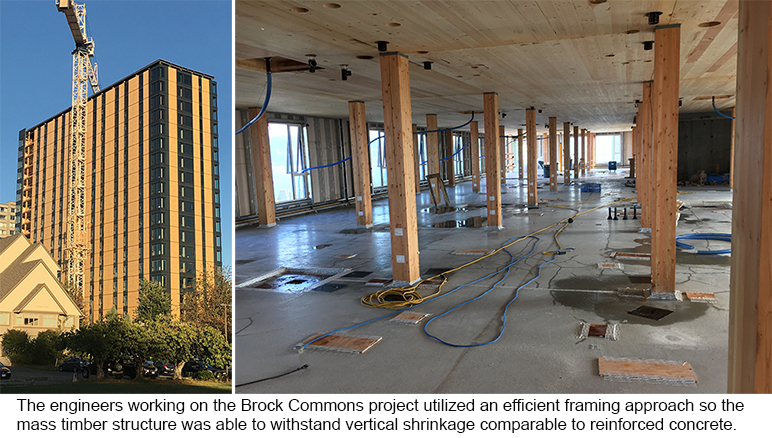 Mass timber's diverse application in Canada was evident when they visited what is currently the tallest wood structure in the world. The Brock Commons project is an 18-story student dormitory project on the University of British Columbia campus. The structure begins with one level of concrete podium followed by 17 stories of CLT floor panels supported by glulam columns. Unique to the Brock Commons design, CLT panels span between the columns without any beams which showcases mass timber's structural capabilities. The project team experienced construction efficiency (especially from a developer's standpoint) since construction crews completed the overall project a few months ahead of schedule.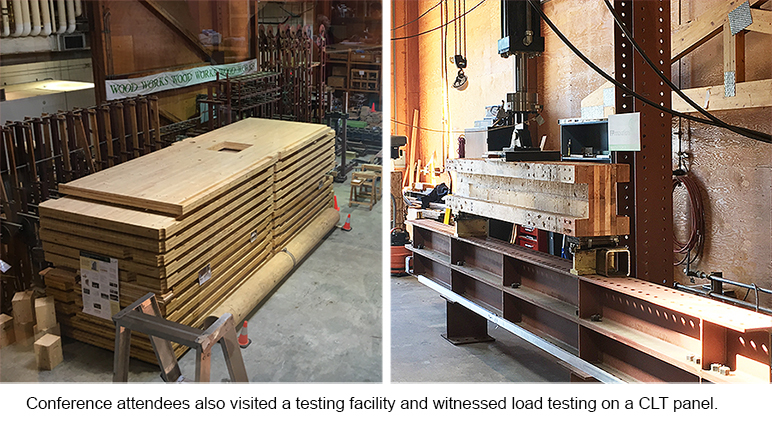 Reinforced Benefits
They were able to walk into the Brock Commons project during the tail end of the construction phase. While on site, they met with the contractors and were able to ask them questions about some of the challenges they faced in building being the first mass timber project of its kind. A majority of the contractors said the CLT system performed better than expected due to mass timber's accuracy and its ability to be delivered on site in its final condition within an 1/8" of tolerance. The fabrication shop that milled the panels utilized Computer Numeric Controlled (CNC) equipment and cut all of the necessary openings for the mechanical, electrical, and plumbing (MEP) systems. The prefabrication advantages: the level of accuracy with the product leads to less conflicts in the field, less inquiries from the contractor, less coordination between the design team and contractor. The end result: a much faster construction process.
While speaking with Structurlam representatives and other project contractors, we learned that CLT can be adapted and used in other capacities as well.

Canada sets the bar high
British Columbia is home to many great modern day wood structures with various building types of mass timber. Examples range from industrial use to government facilities; from museums to commercial retail; and from educational to office buildings. The 2009 "Wood First Act" instigated the increased application of mass timber in the province. This act required that provincially-funded projects be designed with wood construction in mind. As a result, the University of British Columbia is rife with the latest mass timber buildings – and their examples are catching on in the private building market as well.


The Takeaway
Canada is ahead of the game as far as integrating mass timber and CLT into new building construction. Adam and Dean expect an increase in mass timber usage in the U.S. when building codes advance. Change will be driven by authorities having jurisdiction who familiarize themselves with newer forms of mass timber framing and understand how conducive the systems are for various building types. It will also be encouraging to see more mass timber production in the Pacific Northwest as salvageable lumber from regional forests infested by the pine beetle (also a challenge in British Columbia) can be manufactured into mass timber products.
We already know there is an audience interested in this type of material. DCI is already working on several mass timber projects, some of which feature CLT. Learn more about mass timber from our previous blog posts!
• Read a previous CLT blog Dean wrote after he attended the Mass Timber Conference in Portland, Oregon.
• Also, check out DCI Project Engineer Jon Potter's blog on CLT.
• Learn about the term "biophilia" and how wood building materials appeal to building occupants.
• Learn about the coming trends in passive house design and how Europeans are already taking advantage of mass timber in this product type.