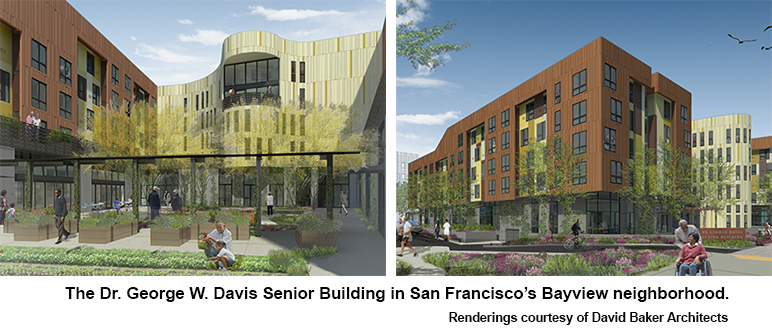 Dr. George W. Davis Senior Building
San Francisco, California
This award-winning senior campus in the Bayview Hunters Point neighborhood is a newly opened facility that is both senior housing and a community center. The facility was envisioned by Dr. George W. Davis, a Bayview activist and African American gerontologist who garnered advocacy relationships to make his community dream come true. David Baker Architects designed the four-building complex which includes 125 rental units, a community garden, exercise rooms, conference rooms, dining hall, beauty parlor, and property management offices.
The Dr. George W. Davis Senior Building is also a popular destination for visiting seniors who seek social engagement with their peers. For those who are aging in place (a.k.a. capable of living in their own home), the senior building is still a valuable resource for finding common fellowship and essential wellness programming. Since the center's programs are open to non-residents, more seniors can benefit from joining the events. Therefore, dual building use became a key part of the design.
DCI designed the building's conventional concrete spread footing foundation system; the concrete flat slab system for Levels 1 and 2; the wood-framed floor system for the residential levels; the shear wall and column layout; and the arrangement of pre-manufactured roof trusses. The engineering team oversaw structural requirements for the below-grade and at-grade concrete parking levels.
The Dr. George W. Davis Senior Building is owned and operated by McCormack Baron Salazar and is LEED Platinum certified.
Aegis Gardens of Newcastle
Newcastle, Washington
Scheduled for completion in Summer 2017, Aegis Gardens in Newcastle will be the first assisted-living community designed to appeal to Chinese-American seniors in Washington state. The two-building, 125,119-sf facility is on a 7.5-acre site adjacent to Lake Boren and incorporates feng shui elements for tenants to engage in cultural concepts of home comfort.
Bilingual staff who can speak Mandarin and Cantonese dialects will be on hand to provide care to residents. There will be 110 residential units and 21 memory care units. Common spaces will include a classroom; activity rooms for art hobbies and mahjong games; a living room; and a garden courtyard.
Ankrom Moisan designed Aegis Gardens in Newcastle and drafted a floor layout labelling the areas influenced by feng shui directional elements. The center courtyard represents the "Earth" element; the westside living room and common areas represent the "Metal" element (associated with peaceful relaxation); the studios and memory care units in the eastern section cover the "Wood" element (which affects personal growth, flexibility, and intuition); the classroom represents the "Fire" element (symbolizing enthusiasm and activity); and the north section of the facility contains more living units which are covered by the "Water" element (symbolizing clarity and good communication).
The architects achieved a culturally appropriate design that will resonate with Asian residents. Read more about the historic significance of the Newcastle area for the Chinese community.
DCI designed the structural system which starts with a concrete level and then continues upward with wood-framed residential levels, making each building five stories tall.
DCI is also engineering structural systems for other Aegis Living projects: Aegis Mercer Island, Aegis Overlake, Aegis Kirkland, Aegis Lynnwood, Aegis Shoreline, and Aegis Bellevue corporate headquarters.