But ambition is limited by the laws of physics. Even the most wildly imaginative conceptual design won't get built if it doesn't stand up and prove safe for human occupation. Structural engineers have played a vital role in helping realize the lofty goals of some of the most off-the-wall architectural achievements. Here's a look at a few of those unique buildings and the structural systems behind the scenes.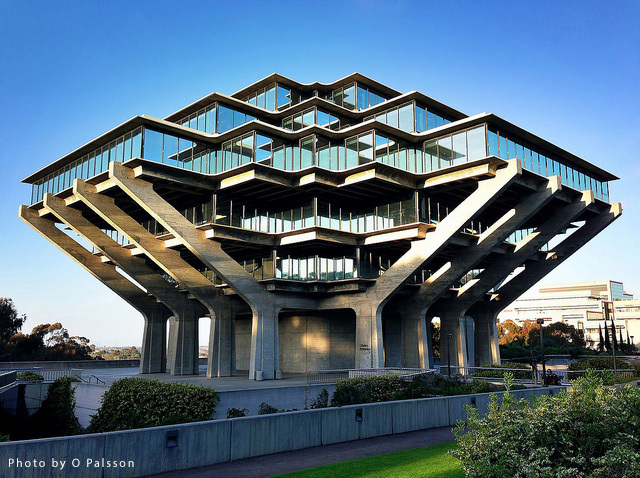 Geisel Library (San Diego, CA) - It could use some more color and whimsy, but Theodor Geisel, better known as Dr. Seuss, would likely be proud of the visually striking library building that bears his name. The library, located at the center of the University of California - San Diego campus, features a two-story concrete pedestal that holds a mushrooming series of six terraced levels, resembling a giant lantern or a hovering spaceship. Geisel was a frequent contributor to the library, which now houses a collection of his work.
Architect William Periera & Associates originally called for a spherical building on top of the pedestal, with the structural elements hidden inside. In order to maximize the utility of interior space, these designs were abandoned and the current "exoskeleton" design was selected. Initial designs called for four large steel trusses to make up the pedestal, but due to the complex loads and high cost of connections Pereira and structural engineering firm Brandow & Johnston elected to use 16 sloped columns made of reinforced roller-compacted concrete tied together with post-tensioned concrete beams. The pedestal was built first to provide a base for scaffolding that was used to complete the upper floors. Post-tensioning in the lower floors and peripheral beams was one of the last tasks for the general contractor, since the loads of the upper floors had to be accounted for.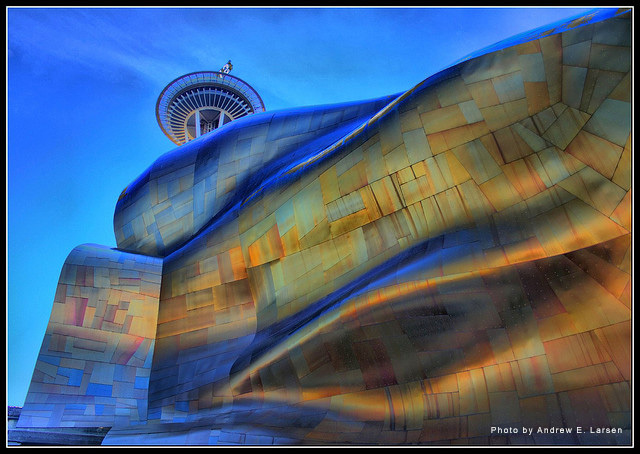 Experience Music Project (Seattle, WA) - What do you expect from a building modeled after Jimi Hendrix's iconic demolished guitar? With nary a right angle to be found, the Experience Music Project is an attention grabber for sure - the exterior is covered in more than 4,000 undulating steel panels of vibrant shades of gold, blue, red, silver, and purple. EMP is the work of architect Frank Gehry, known worldwide for famous structures like the Guggenheim Museum in Bilbao, Spain and the Walt Disney Concert Hall in downtown Los Angeles. Reaction to the building runs the gamut; critics have described EMP as looking like "feuding blobs," "a wad of chewed gum" and, in the words of New York Times architecture writer Herbert Muschamp, "something that crawled out of the sea, rolled over, and died."
Aesthetics aside, EMP's structural system is just as remarkable as its exterior. Early designs considered using a folded space frame structure, a concrete shell and precast concrete rib beams, but the team settled on steel-plated girder ribs as the primary structural element. Each of the more than 240 ribs, which reach up to four stories high, had to be custom-made to precise specifications by Portland-based Columbia Wire & Iron; no two ribs were alike. Magnusson Klemencic Associates, the project's structural engineer, utilized CATIA, a 3D computer design tool used by Boeing to construct airplanes; this process was an early version of BIM (building information modeling), which is now an industry standard. The building wraps around the Seattle Monorail and more than 75 percent of the soil around the monorail piers had to be excavated during construction.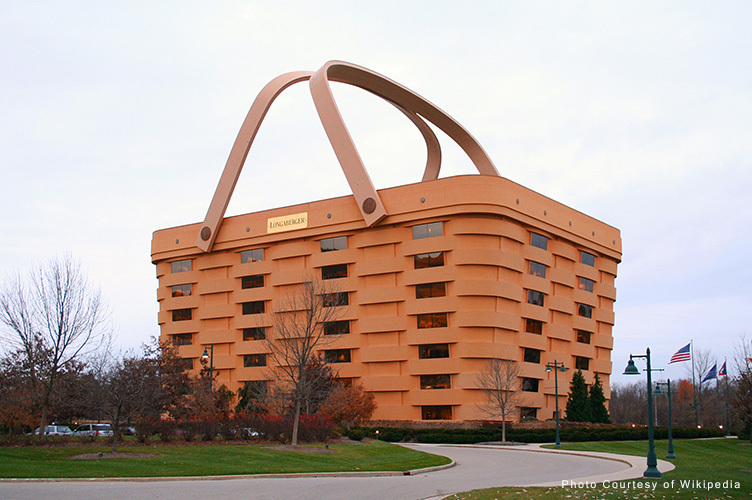 Longaberger Basket Building (Newark, OH) - What better marketing tool for your product than blowing it up and making a building out of it? The Longaberger Company has been selling handcrafted maple wood baskets since 1978. In 1997 they built their new headquarters building to resemble a giant basket. The seven-story, 180,000-sf building consists of W14 steel columns that lean outwards an extra foot per floor, allowing the structure to expand as it climbs upwards. X bracing in the vertical chords provides lateral support. The facade consists of 6' by 30' stucco panels that create the "thatched" look of a basket. Two large "handles" made of 11 pieces of prefabricated galvanized steel rise above the building. The handles span 155 feet and weigh nearly 70 tons and are heated to prevent ice buildup during the winter months. NBBJ served as the project's architect.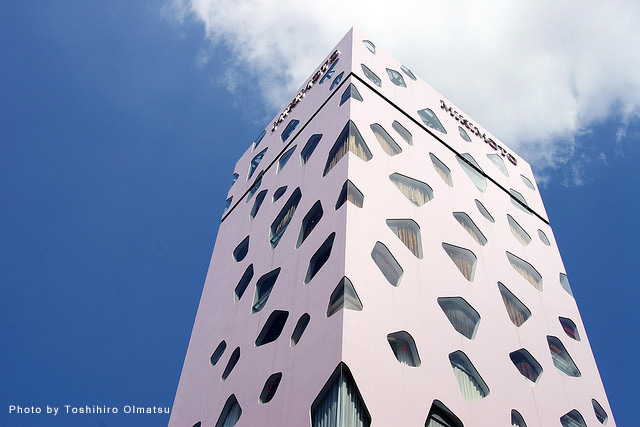 Mikimoto Building (Tokyo, Japan) - You have to look long and hard to find another example of a tower built without structural columns, but architect Toyo Ito did just that with the Mikimoto Building. The nine-story building features oddly shaped windows that are seemingly placed at random on the pink exterior, including around corners. Providing windows in such a randomized way would typically be difficult in a conventional tower due to large corner columns. Ito got around this by making the building's facade the primary structural support. Two sets of 1.2-cm steel plates act as the "bread" of a sandwich, with low-viscosity concrete poured inside from above.