No matter what level of experience you have, most A/E/C firms or companies across the country expect their staff to persistently network, represent the firm, stand out to potential clients, and be remembered when those clients consider your firm for their project. Not all lines of work emphasize this strategy, but in the A/E/C industries the culture of engagement, business networking, and collaboration are paramount in running a competitive firm.
Whether you are an engineering student or an experienced project engineer, you will have many opportunities (and requests) to partake in industry-related socials, company informational presentations, networking events, and career fairs. If you are still in school, networking may seem irrelevant now, but building the invaluable skill will prepare you for the business development responsibilities of a project engineer, project manager, associate – even associate principal or principal of the firm. If you are currently in the A/E/C industries, you already know this – but are you currently applying the profession's standard practice?
What is easy to forget is that everyone who is networking is creating win-win situations – even if you think you are not benefitting from the direct experience. Here are tips and examples of win-win situations when A/E/C staff members and students network at campus career fairs or company informational presentations.
Matching a face to the name: Most colleges and universities arrange annual or quarterly career fairs for their students who are seeking seasonal jobs, internships, or full-time employment upon graduation. In the past decade, DCI has had a presence at campus career fairs and recruited engineering graduates from universities around the country, including Washington State University, University of Washington, California Polytechnic State University, University of California in San Diego, and Boise State University. They are now project engineers or project managers across our eight offices. Many started out with few or no professional contacts, and attending careers fairs or a company informational presentation were the best options to begin the process. While still in school, DCI Project Engineer Carl Harris discovered that being competitive in the job market meant showing your people skills as well your academic development.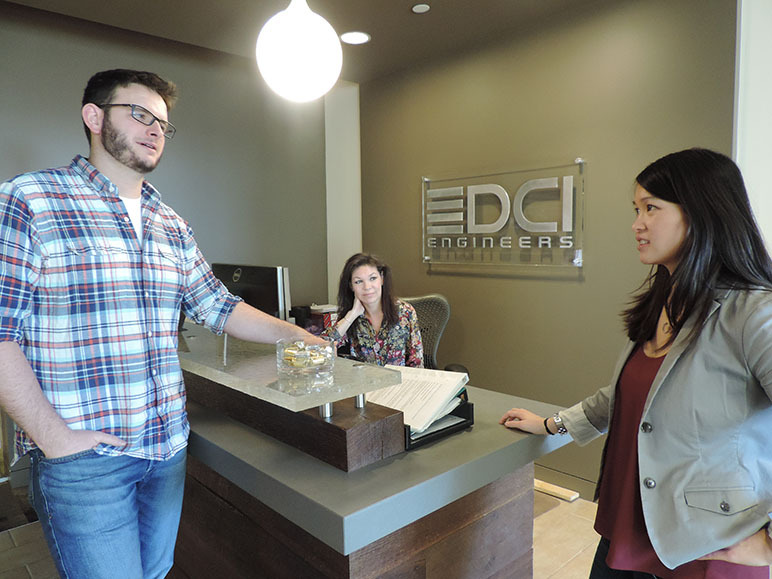 "To really stand out at these events, you really need to be engaged and proactive," Carl says. "Ask about internship opportunities, ask to job-shadow an engineer for a day at the firm, or volunteer at an industry association event."
After regularly showing up at WSU's career fairs, he was a familiar face at the DCI booth and befriended Project Manager Robyn Yang, who became his advocate when DCI was positioned to hire new staff.
DCI Project Managers Blake Schatz and Gaelyn Krauser represent the firm at Cal Poly's career fair forum.
Mentorship: A structural engineering firm can end up being a corporate mentor of sorts. During Cal Poly's structural engineering career fair, DCI's Project Manager Gaelyn Krauser finds herself encouraging students to fully apply themselves and get the most out their undergraduate and graduate work. Sometimes students just need to be reassured by an alumni that the program will prepare them for success in the job market and work arena, she said.
"Completing all those hard classes and putting in all that intense studying – it's worth it," she commonly tells them.
Students benefit from that kind of advice and also from basic industry information offered by people in the field. They might find out a particular A/E/C firm isn't a good fit for them. This gives the corporate representative a chance to direct engineering talent to a more suitable work environment or career track. In the grand scheme of things, career fairs and corporate outreach make an impression on the community and the individual.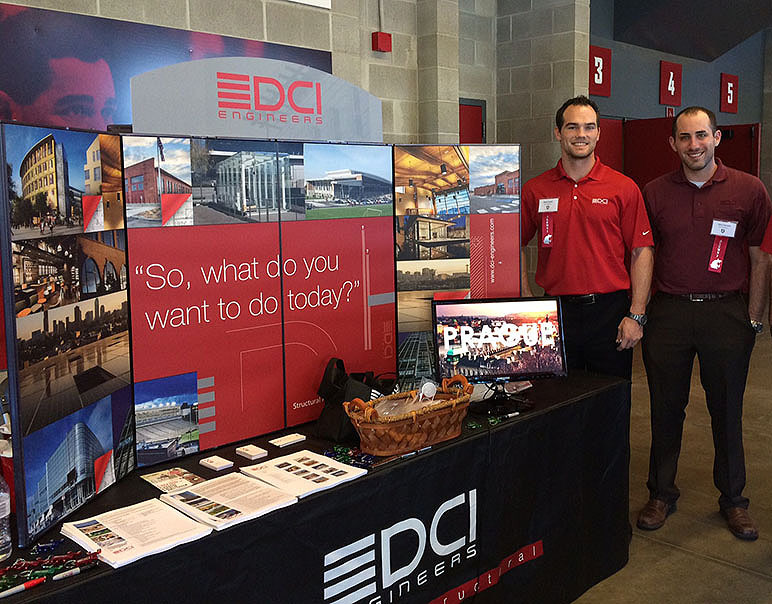 Project Engineers Dean Lewis and Chris Ferrera return to their alma mater to inform Washington State University engineering students about DCI Engineers.
You've been training for the big leagues all this time: Ask anyone who works for or is active with a local chamber of commerce – business wins happen when you know someone who has connections. Having a personal rapport with A/E/C professionals can be key when it comes to winning projects for your firm. Remember all the networking at career fairs that led to your first job or internship? The same entrepreneurial savvy can come in handy when you're at a qualification interview, aiming to win a major project for your firm.
Most high profile clients, architectural studios, and property developers don't want to work with just any random structural engineering firm they find on the internet. Most clients prefer working with firms and engineering talent they know and trust. If you've been growing your professional network, chances are good you know someone involved with the project who can personalize the selection process. It's time to tap into that network and create the win-win situation that has been brewing since the start.
Staff members who help groom new engineers into the profession have contributed to the firm's culture and reputation – a distinguishable characteristic that makes the firm stand out in a competitive market. By now, networking also comes second nature and you are thinking like a principal of a firm.
The Takeaway: The convenience of social media and LinkedIn does not replace valuable one-on-one time with A/E/C connections. One of your responsibilities as a professional architectural or structural engineer will involve business development. Take the opportunities to network with industry professionals at career fairs and rapport-building social events. Real world engineering involves personal interface with clients and the skill of developing long-term partnerships.
*Intro photo by Romer Jed Medina