THE CASE-BY-CASE NATURE OF MASS TIMBER: IS IT FOR YOU?

The first step in any project, regardless of materials, is to establish drivers: from a variety of perspectives of the developer, architect, engineer, and contractor.
"What are some of the key goals for an owner? These can include cost efficiencies, construction schedule, end user experience, and sustainability," notes Ethan Martin, DCI's Director of Mass Timber and Sustainability. "It really starts with listening and understanding what's important to a client and working backwards from there."
If a driver is speed of construction, size matters.
"When projects get larger or taller, repeatability and simplicity of connections in mass timber can have profound cost savings not only on speed of construction, but also overall project cost. It can be effective for a variety of occupancies and construction types," says Shirley Chalupa, DCI Principal and fellow mass timber expert.
If the "end user" is a driving factor, exposing mass timber materials will be a priority as it offers biophilic benefits. A panel at the 2021 International Mass Timber Conference outlined how, "biophilic design is increasingly used to boost occupant well-being through connection to nature and the use of natural elements like daylight, plants, water, and exposed wood. These elements have been attributed to positive outcomes in humans—from reducing stress to boosting productivity."
With that said, building height must be factored.
In accordance with current codes, at 9 to 12 stories, 20% of the mass timber starts to get covered (however, Ethan notes he is hopeful this will be changed to 100% exposure in the 2024 code); and at 13 to 18 stories, no structural wood is visible.
If exposure is a major driver, there are alternate means, such as Performance Based Design, to expose wood at taller heights. Having worked in Performance Based Design over the past few decades and with over 14 tall mass timber buildings currently in design, DCI is familiar with assisting project teams in pursuing designs outside traditional code that will allow the wood to be revealed while adhering to the required fire rating.
Finally, if cost is what ultimately decides whether mass timber is a go or no-go, there needs to be a cost-benefit comparison study, which requires weigh-in from project partners.
What may seem like a simple decision of selecting a construction type can have significant cost impacts on fire-ratings of timber structures. A simple rectangular grid decision can drastically affect the cost of MEP systems. For example, on one DCI Austin project, our team modified the originally proposed structural connections (originally designed by another engineering firm) to achieve better efficiency/repetition of the structure to accommodate those systems, which resulted in over $1M in cost savings.
STARTING WITH MASS TIMBER

One of the biggest mistakes DCI's mass timber experts see is when mass timber is considered late in the game. This is often when the design process and grid layout are already well underway, requiring things to be shuffled around, so to speak.
"Bringing in mass timber as an afterthought is like putting a square peg in a round hole," says Ethan. "Designing for a concrete grid and simply replacing with timber is wholly inefficient for timber just as designing for a timber grid and simply replacing that with concrete is wholly inefficient for concrete. DCI prefers to run side-by-side framing systems, such as a concrete framing plan alongside a timber framing plan, to give project stakeholders an apples-to-apples comparison of what the cost differences are. This is done up to a point where the differentiators can be established without the costly efforts of designing two buildings.
Starting with mass timber in Design Concept can be very economical but also less stressful when a structural engineer—who specializes in mass timber—is assisting with the process.
In early design assistance, Structural can help guide grid layouts and lateral system locations that allow for future flexibility, the design intent, easy constructability, MEP collaboration and coordination, and inevitably, a successful project.
Parking structures below timber buildings pose the greatest challenge. This is often a matter of figuring out how to match an efficient 24' timber grid to a concrete parking structure grid of 28' to 30'. To maximize the efficiency of the timber framing while also maximizing parking, a transfer slab or transfer beams can be considered. DCI will also work with the design & construction team to study mass timber columns that stack with concrete columns wherever possible. In DCI's expe
rience, stacking columns are typically the most cost-effective construction method when compared to transfer beams and slabs. However, we understand that this must be balanced with an efficient parking layout, and sometimes transfer slabs or transfer beams are necessary. With DCI's deep experience in mass timber and concrete parking structures, we have developed timber/concrete interfaces through a variety of methods to offer buildable solutions.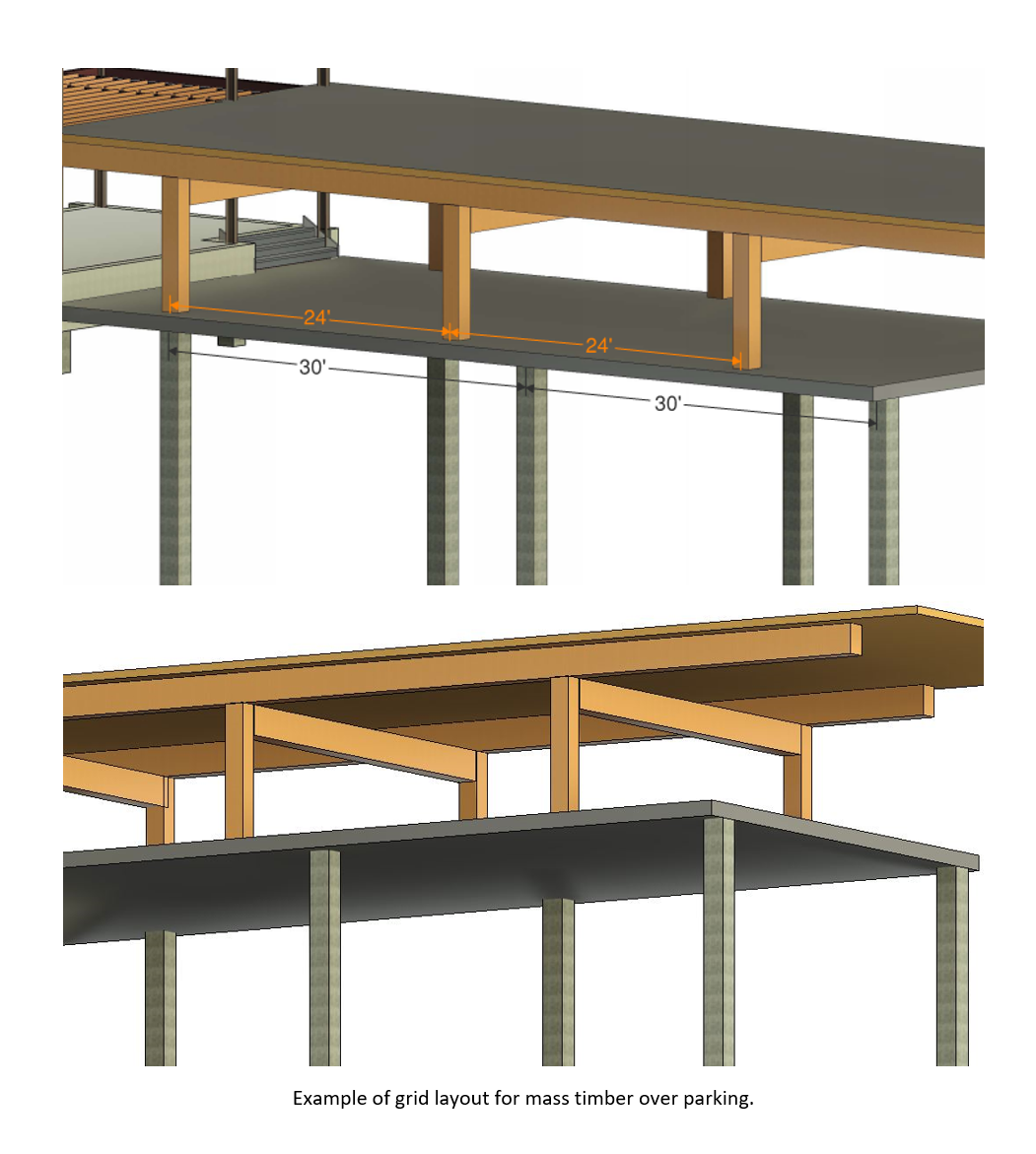 WHAT DOES IT ALL MEAN?
Mass timber is more than just an afterthought. As every project is different with different occupancies, different construction types, and different sets of drivers, mass timber requires planning and special consideration. Early integration of structural mass timber experts to the design is key to implementation, allowing the project to pencil out, get to market on time within budget, and produce a project the owner is going to be excited to call their own.