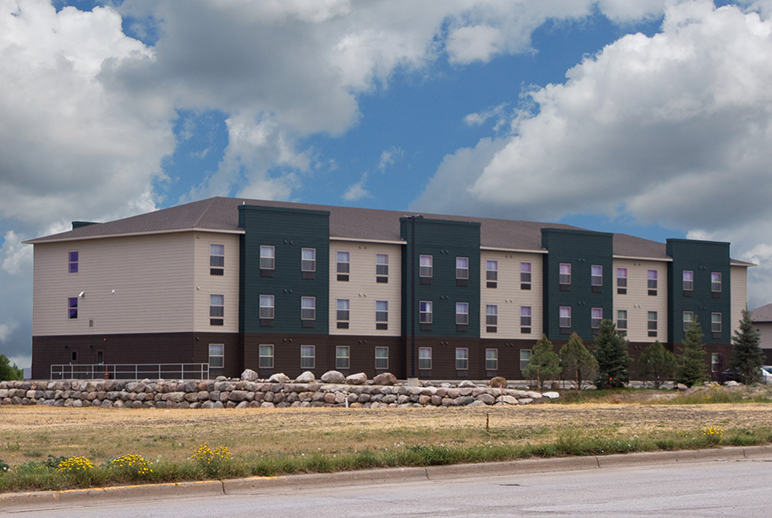 LOCATION, LOCATION, LOCATION
Thanks to their nature, modular builds are constructed in the factory, transported to the site and set into position, which significantly cuts down on site construction time and presence of on-site workers. For neighborhoods with sensitive noise ordinances and/or construction impacts, modular allows developers to get in and get out.
"The sheet rock guys, the electricians, the carpenters, the painters…all of that is done beforehand in the factory," Troy explains. "These can be completed living units on the inside, so theoretically, all you have to do [when they arrive on site] is remove the shipping tape off appliances."
And what about the red tape? It may feel like plunking a fully-assembled dollhouse onto a land parcel; but with pre-assembly comes proper permitting. Troy says one of the challenges is educating building officials, since modular is fairly new to them, on the dual permitting process of modular construction. Everything assembled in-factory is under state review; while, onsite, it falls under local jurisdiction.
"That's part of the construction sequencing," Troy says. "Who has jurisdiction? That's something the design team needs to know about."
Other considerations include adequate site staging, in order to reduce delivery efforts, as well as crane limitations during the setting phase. Determine if there are trees, powerlines or any other elements limiting crane reach and/or access.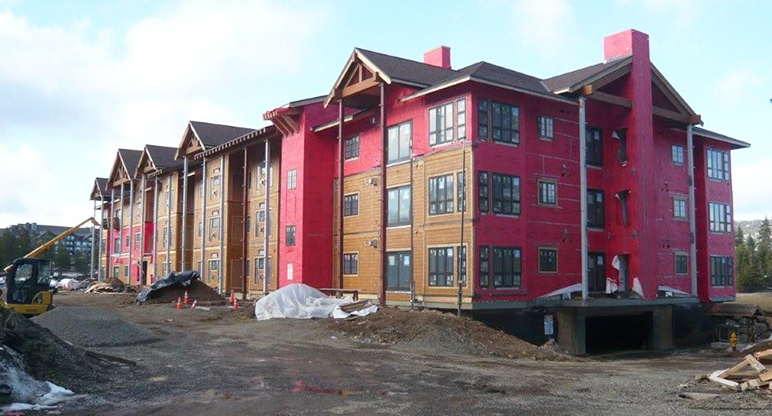 ON THE ROAD AGAIN: TRANSPORTATION
Ideally, the manufacturer should be located within 500 miles of the build site. When the shipping costs are added, this typically tips the project over the limits of other site-built costs.
"We have been involved when the modular units have shipped farther, but there needs to be other cost circumstances to warrant it," Troy says.
In order to get units from factory to foundation, an initial trip study should be conducted to provide an understanding of delivery routes. This early understanding of transport applies not only to the actual trip of the modular units, but how they are designed.
"You're basically designing a bunch of rigid boxes that need to be shipped down the road without falling apart while using the same site build methods to tie them all together," Troy explains.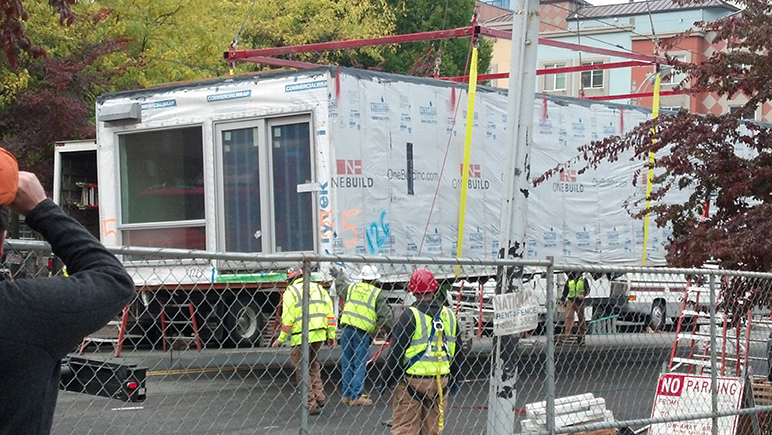 DESIGN: BUILT TO LAST
Just like site-built, modular unit lateral systems include shear walls and horizontal floor and ceiling diaphragms.
"But in addition to that, you have to make sure those boxes can be assembled in factory and transported to the drop site and picked up by a crane and set down," Troy continues. "It's a stiffer building at the end of the day."
Load resistance is a top consideration for design. Modular units are generally glued and screwed just to deal with the manufacturing and delivery process, which results in more stable finished materials. In normal, site-built construction, there's just one joist that serves both bottom and upper level floors. Because modular units are assembled individually and then stacked and lined together, there are double the walls and ceilings between units. This provides a better sound and vibration barrier for tenants.
Some typical architectural limits to modular designs include:
• Parameters within 16' W x 12'-8' H x 68' L
• Overhangs, step backs or open units may increase costs and field construction effort
• Modular design's deeper ceiling-to-floor assembly must be accounted for in stairs and overall building height
• Lay out units to stack on perimeter of lower units
For more information on modular design and construction, check out these sites:
http://www.guerdonmodularbuildings.com/