On October 24th, DJCOregon recognized DCI's Shirley Chalupa as a 2019 Woman of Vision honoree for her outstanding leadership in shaping built environments in Oregon and southwest Washington state, her mentoring involvement, community efforts, and promotion of industry diversity. Shirley was one of 44 Women of Vision honorees representing the architecture, engineering, construction, law, and finance industries.
DCI Engineers nominated Shirley since the firm has relied on her leadership over the years to make strides in the Portland office's business development, team building, and client care efforts. She has positioned herself to be the prominent face of the Portland office by being the go-to resource for adaptive reuse, tenant improvement, mixed-use, and higher education projects. Her clients rely on her expertise for seismic upgrades, mass timber, urban developments, and understanding the impact of updated building codes and how it affects local jurisdictions. She is guiding talented associates, project managers, and project engineers to represent quality service to the local AEC communities. As of this year, she is taking on a leadership role for DCI's major healthcare accounts because of her design experience with healthcare inpatient facilities and medical office buildings.
Shirley is the only structural engineering representative serving on the City of Portland's URM Building Workgroup (For-Profit Subgroup). Her involvement with this group allows her to contribute her unique perspective in site assessments, exploratory demolition, and feasible reinforcement systems for various built environments. She is also a member of the Association of Architects (AIA) in Portland. This year she led downtown walking tours during the chapter's URM Symposium to share her insights on local buildings and system upgrades.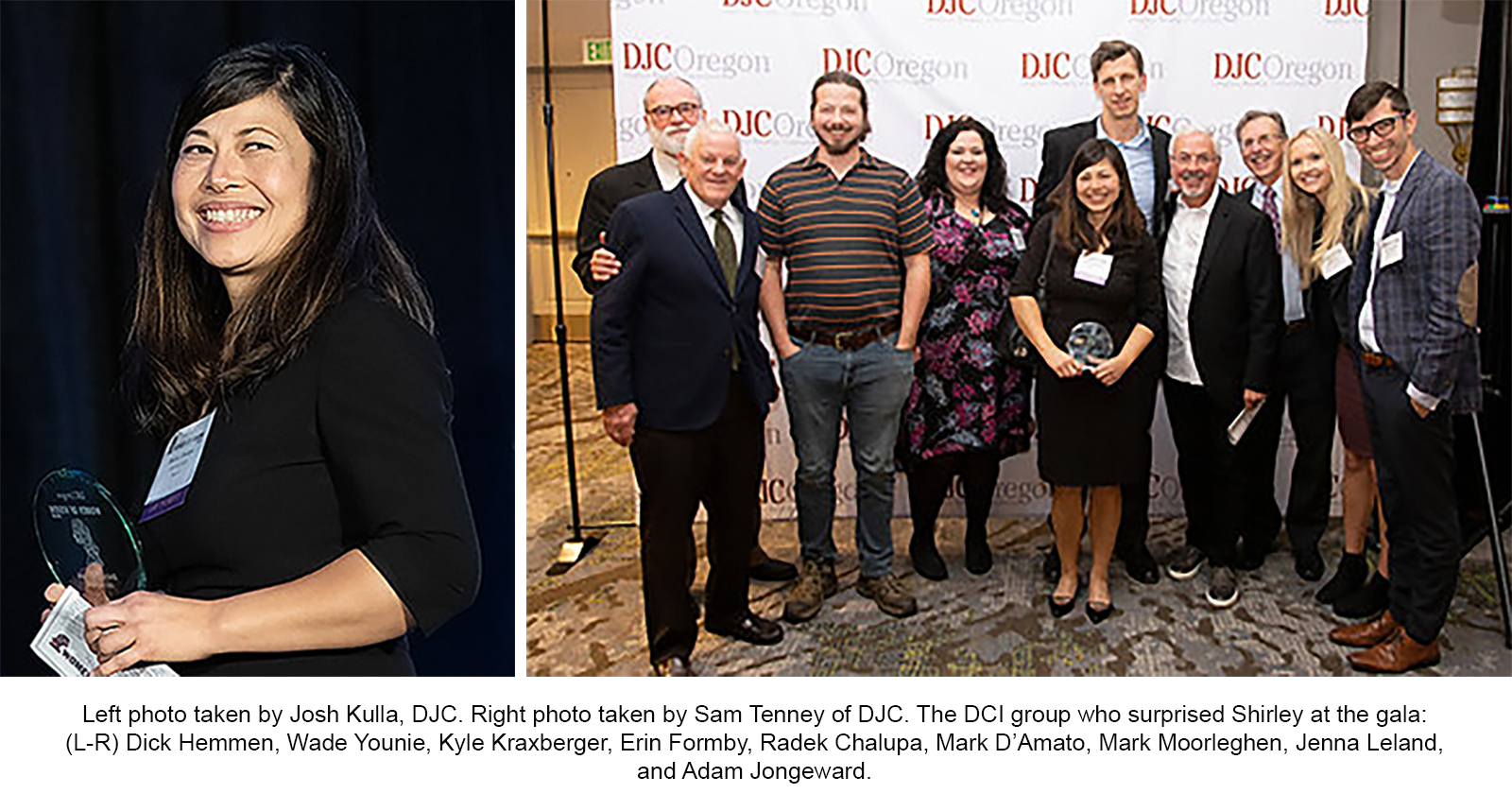 The Oregon Museum of Science also recognized Shirley in a curated exhibit called "Designing Our World: A Community Envisioning Girls as Engineers." She was selected for being a local example of a successful engineer contributing her technical skills for numerous projects in Oregon, such as Hotel Chamberlain, Eastside Exchange, and the University of Oregon's Student Recreation Center in Eugene.
Shirley moderated and spoke at two BISNOW discussion panels: "Multifamily, Affordable Housing & the Future of the Eastside" and "Portland Multifamily Investment and Development Summit." These discussion panels informed local development and urban planning professionals about the city's new inclusionary zoning policy and the future of the city's multifamily market.
DCI Engineers is proud Shirley has been recognized by the business community in Portland. She has gone above and beyond to represent the firm by becoming a recognized public figure.
DJCOregon instigated the Women of Vision awards program after the editorial board discovered recent data that women were underrepresented in the building industries now, just as they were nearly 40 years ago. The program makes an effort to shift focus and to get the "story of the often unheard minority."