Located at 2034 NW 56th Street, the campus includes a five-story apartment building with 18 homes and a four-story, 18,000-sf office building with retail on the ground floor.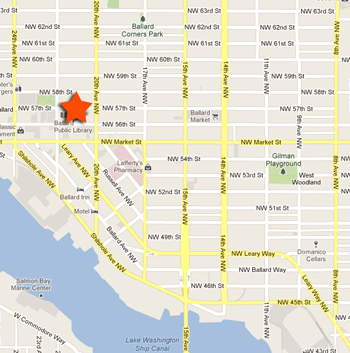 The campus approaches sustainability from many angles. Here are a few of the sensible and sustainable conservation strategies that have been considered since the project's inception to ensure a truly urban ecosystem.
Ecology-based land use: 50% of the land is set aside for open space, including bioswales, pervious walking surfaces, and green community spaces. Additionally, the buildings are situated on the site based on solar access in order to create micro-climates for urban farming and p-patches (parcels of property used for gardening allotments).
Energy Independence: The mix of office, residential, and retail space generates variable energy demands so that heat and energy can be stored and transferred between uses. The campus accomplishes this by utilizing photovoltaic, geothermal, and solar hot water systems. The systems generate energy on-site and minimize the carbon footprint by relying on shared energy sources. Additionally, the campus features super insulation to ensure heat retention, as well as radiant heat and chilled beams.
Urban Agriculture: The campus supports a variety of elements for urban agriculture, including green roofs, indoor gardens with edible plants, outdoor habitat for wildlife, biofiltration and bioswales, and rainwater harvesting. Our structural engineers utilized innovative framing solutions to achieve the cantilevered, thin-profiled rook, which is optimally sloped to capture rainwater and channel it to the cisterns.
Our structural engineers in the Seattle office have been working closely with Johnston Architects, Seneca Group, Walsh Construction, and the rest of the design team to make sure this project reaches its full potential. In particular, our engineers collaborated closely with the entire team to design exterior feature stairs, castellated steel beams that reduced the overall steel tonnage in the structure, a large skylight in the office building to provide sunlight for the indoor gardens, and other unique features.
We're all very excited to see what the campus's grand opening in June will bring, and we can't wait to watch this urban ecosystem thrive.
To learn more about what this forward-thinking, super green community has to offer, click here.