How can we safely get the public into and out of a full-scale space shuttle? How do we secure a two-story-tall sculpture constructed out of LEGOS, toy soldiers, Hot Wheels, Happy Meal toys and board game pieces? How can we build a Boy Scout's dream – a 150-feet-high tree house that doubles as a temple to sustainability? For Greg Gilda, a principal in DCI's Seattle office, exhibit work offers an opportunity to turn these unique visions into reality.
Gilda has led DCI's design work on an array of these projects, from multi-story climbing walls to a penguin holding tank modeled after the coast of Peru. Gilda said the design of every project has to contemplate how people will be interacting with the exhibit – in both expected and unexpected ways. The old-fashioned "look, don't touch" concept of a museum is now out of date; modern museums seek to engage users by inviting them to have hands-on experiences with the material. That's great news for museum architects and patrons, but it can complicate things for a structural engineer.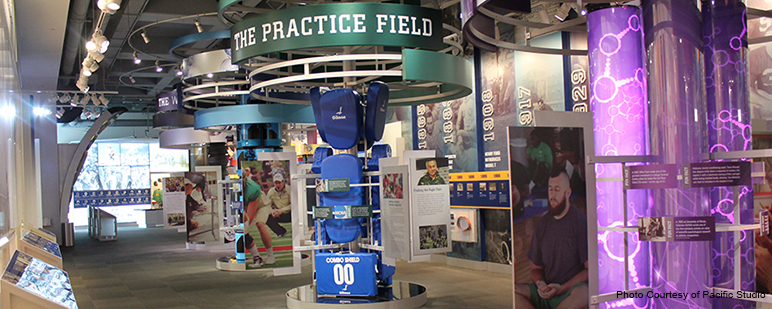 This user-centric design approach was at the forefront during Gilda's recent structural review of the College Football Hall of Fame, which opened this fall in Atlanta. The $68.5-million project features a 40-foot-high wall consisting of 700 football helmets representing every college football program in the country, a 52-foot-long interactive touchscreen, and a 45-yard football field complete with goal posts for field goal kicking contests. With so many hands-on exhibits, Gilda joked that the Hall of Fame's design had to take "drunken fan loads" into account.
"The design has to encapsulate the expected behavior of patrons," Gilda said. "It doesn't take a lot of imagination to see someone jumping up and hanging from the goal posts."
While user safety is paramount during design, structural designs often have aesthetic impacts as well. One of the facility's highlights is a virtual stadium that allows users to spin an articulated viewing screen 360 degrees, giving them the experience of standing at mid-field of their favorite college stadium. All of the screen's structural support had to be hidden from view in the ceiling above.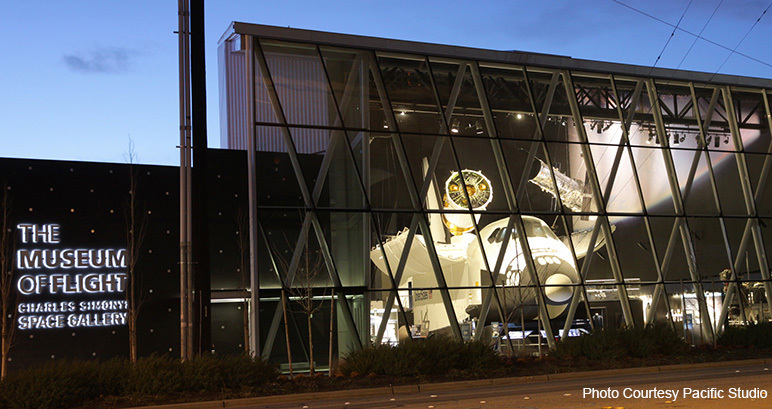 "A lot of these projects would be easy if you didn't have to worry about aesthetics," Gilda said. "But it's important to think about what the designers are trying to do artistically."
The Hall of Fame was one of dozens of projects that Gilda and DCI's engineers have worked on with Pacific Studio, a Seattle-based design firm that specializes in exhibit work. Marc Burns, Pacific Studio's Business Development Director, said his firm keeps coming back to DCI due to its engineers' ability to anticipate potential challenges early in the design process.
In your typical brick-and-mortar building, engineers are primarily concerned with two types of loading – gravity (up and down) and lateral (back and forth). But exhibit work often requires working with objects that lack the right angles of your typical framing system. In 2012, DCI and Pacific Studio teamed up to install a full-size mockup of the Space Shuttle orbiter in Seattle's Museum of Flight. The 122-foot long, 45-foot tall trainer was used for training astronauts at the Johnson Space Center in Houston. Gilda and the Pacific Studio team travelled to Houston to plan the best way to disassemble the 3,500-sf device so that it could easily be put back together in Seattle. During the process, Burns said Gilda noted something none of the Pacific Studio team had considered – that they would need to calculate the potential wind loads on the orbiter's tail, since the hangar it was housed in would occasionally be opened to the elements outside.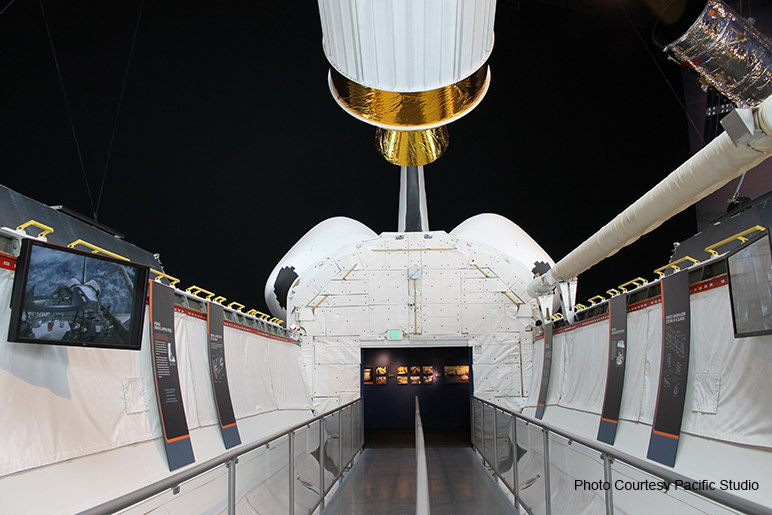 "That's not something that any of us would have ever thought about," Burns said. "That's what we like so much about DCI – the 'outside the box' thinking and the way they are able to help us solve problems."
DCI also performed a structural review for the Bill and Melinda Gates Foundation's Visitor Center, an interactive testament to the foundation's global health work. The center features a large display with wood blocks that spin around depending on the user's input, showing how one person's actions affect others around the globe. Though seemingly a simple construction, Gilda said the structural drawings for the exhibits were more than 300 pages long.
Museums and public exhibits are often placed in historically significant locations, which sometimes come with strict historical preservation rules that prohibit major structural changes. DCI had to grapple with these challenges when designing the exhibits inside of Seattle's Museum of History and Industry, which reopened in South Lake Union in 2012. The museum is located in the Naval Reserve Armory, which had to remain structurally unaltered during design. To divvy up the open floor plan for exhibits, the design called for several two-story towers accessible to the public. DCI elected to keep things simple and efficient – steel-frame scaffolding and a wood-framed floor that is anchored to the facility but minimally intrusive to the structure.
Gilda said it's rewarding to approach a conceptual design that has multiple logistical hurdles and find the perfect structural solution.
"Eighty percent of what we do is listen to what the client wants and work through the challenges," Gilda said. "It requires not being bound by the way things are traditionally done, but using your entire tool box of solutions and mixing and matching until you find a solution that works for the client."