Continuing our series of blog posts on DCI's "Unsung Heroes," here's a look at DCI's IT Department – why it's here, what it does and how it's evolving in the coming years. IT Manager Art McCallen answered a few questions about the department: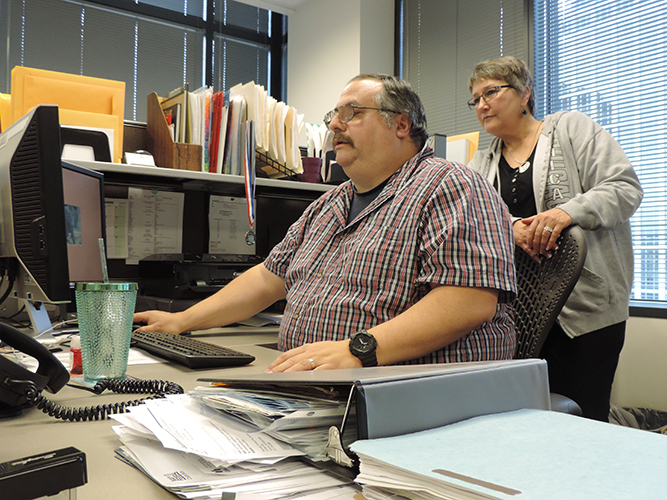 1. For less techy folks, can you briefly describe what you do on a day-to-day basis?
Primarily it's supporting employees with problems that come up on a day-to-day basis. Problems like: software not performing as expected or not working at all, slow computers, network connectivity issues, hardware issues that reduce the function of a PC or laptop or prevent it from working at all, email issues. We often work to connect employees to the DCI network from outside the network or connect employees to their work computer from a home computer. We also do a lot of new PC and laptop setups. All new computers come to Seattle first where we install all the software applications needed for each individual. We then setup the employee's profile so that when we ship it from Seattle, all they have to do is set it up, plug it in, and log on. This year alone we've setup and deployed 50 new computers and laptops with more on the way.
Behind the scenes we maintain the network equipment that keeps everyone connected. We manage and maintain the backups for all of the servers. We update and patch computers and servers to ensure hardware is functioning properly. We also manage security to protect the DCI environment from unauthorized access through firewalls, policies, and anti-virus software.
2. What's the most common problem that you troubleshoot for DCI employees?
I would say the most common problems are software-related, especially Microsoft Office issues or Engineering/Drafting software issues. We also find ourselves dealing with PC performance issues related to aging hardware or virus/malware infections.
3. If we're having trouble with our computers, what should we do before calling you?
Restarting your computer can solve some of the basic issues that people experience. Sometimes an application will hang up or stop functioning correctly which causes the computer to appear to slow down or even stop responding.
4. What are two or three major trends affecting the IT industry and how do you see them affecting the profession?
I would say one trend that DCI is moving towards is cloud computing. This opens up a few more opportunities to access and retrieve data. DCI is currently utilizing Office 365 for email which is 100 percent in the cloud. We are also currently working on a project to get all shared files moved from local servers to the Nasuni servers located in each office, which will make it easier for someone in the Austin office, for example, to access a file being used by someone in the Seattle office.
5. What do you think A/E/C firms can do to help improve their IT capabilities?
Technology is always changing and presenting new opportunities. Keeping up with current technology and keeping equipment up to date can be a big benefit to work within DCI and with other companies and firms. Using outdated equipment can cause a company to fall behind in that they will not be able to interact with their clients or vendors. Outdated equipment or software will eventually lose support from the manufacturer. Outdated equipment can also pose significant security threats as they are not designed to meet current and new threats.