Wood is one of society's oldest building materials, but the way we utilize wood has changed immensely in recent years. Architects and engineers are reimagining what can be done with wood – using it to build the world's greenest buildings and even considering building wooden skyscrapers.
On Nov. 19 DCI Principal Troy Bean attended the WoodWorks Wood Solutions Fair at the Seattle Convention Center, a few blocks away from DCI's Seattle office. Troy was on hand to collect the organization's award for Best Multi-Story Wood Design for N-Habit Belltown.
"Dawn Bushnaq and Peter Law of Bushnaq Studio Architecture and Design and DCI Engineers Principal Troy Bean admire their WoodWorks award for Best Multi-Story Wood Design for N-Habit Belltown"
As the first modularly constructed mid-rise building in Seattle, N-Habit sets a new standard for efficient wood construction in the Pacific Northwest. Attendees were amazed at the project's quick construction schedule in the dense urban environment of Seattle's Belltown neighborhood. The modular units, which sit on top of a two-story concrete podium, were manufactured off-site, shipped to the construction site and assembled over the course of two weekends, requiring minimal traffic disruption. Steel straps connect the pieces together and form the building's shear wall lateral system.
Troy said the event was an invaluable networking resource, bringing together architects, engineers and wood manufacturers from across North America to compare their experience in building with wood and contemplate where the industry is headed. WoodWorks provides free project assistance for wood builders, helping connect industry experts to A/E/C firms nationwide.
"It was a great opportunity to build relationships with other people in the industry, hear what kinds of buildings architects are designing in wood and pick up some new ideas for how to achieve engineering solutions," Bean said.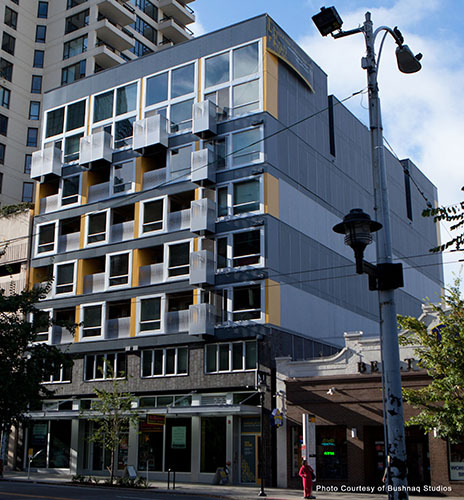 A recurring topic among attendees and during professional presentations was mass timber – particularly cross-laminated timber (or CLT). The product, consisting of large panels of timber stacked at 90 degree angles and laminated together, has been in use for decades in Canada and Europe and is now starting to gain a foothold in the United States. A lack of American production capacity has long been a deterrent, but state and federal grants are going towards the opening of production facilities in Oregon and Montana, potentially kick starting the CLT industry in the Pacific Northwest. Builders in Portland are considering a 12-story high-rise built entirely from CLT.
While wooden high-rises will require convincing city officials and fire chiefs of CLT's safety and slow burn rates, the technology is already being used in low-rise projects in Canada, including the Mosaic Center, a Living Building Challenge net-zero energy use building in Alberta. CLT's carbon sequestration qualities and natural thermal mass makes it perfect for ultra-green projects like the Mosaic Center. During the event, Bernhard Gafner, an Associate with Canadian engineering firm Fast + Epp, said Mosaic Center designers were directly inspired by a DCI Engineers project – the Bullitt Center, which has been billed as the Greenest Commercial Building in the World.