Gaelyn Krauser
Senior Project Manager
Seattle
(above photo: Gaelyn Krauser during a site visit)
I pursued a career in engineering because I like solving problems and coming up with a solution. Engineering at its most basic is just problem solving. That was how a professor explained it to me in college and that really resonated with me. The STEM programs were pretty limited for me growing up; it's so great to see how many are available now. I would urge young girls/women to take advantage of these programs and learn about the different options in engineering – it is a vast field! The ACE mentoring program is a great option for those interested in buildings as it provides an overview of all the disciplines involved in building design – Architecture, Construction and Engineering (Structural and MEP).

Mary Klepin
Project Manager
San Diego
You could say it was in my genes to be an engineer. My grandpa was an engineer, my dad was an engineer, and I am now an engineer. But the first person who really pushed me down this path was my 8th grade advanced algebra teacher. He knew I excelled at math and encouraged me to become an engineer. Since 8th grade, I looked at different types of engineering, but it wasn't until 11th grade in art history class that I knew I wanted to become a structural engineer. I loved studying the ancient buildings that are still standing today inspiring society. And I knew that I wanted to help design these structures, to one day inspire future generations.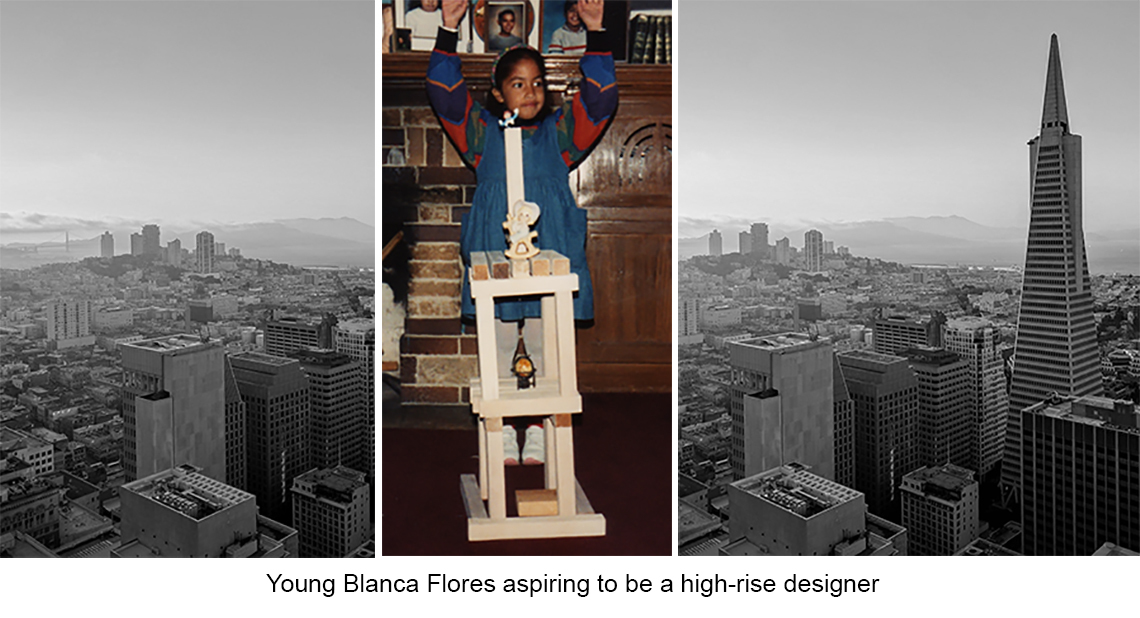 Blanca Flores
Project Engineer
San Diego
My inspiration for pursing a degree and profession in engineering, specifically in structural, stems from an early childhood interest in design. From a young age I've always found design and construction of buildings and bridges intriguing and down right mind blowing. In particular, having grown up in San Francisco and vividly recalling the Loma Prieta earthquake of 1989 was a huge catalyst for pursing a profession in the mathematics and science field (as you can see from the pictures I have a seismically sound structure). Fast forward to high school where I was getting ready to apply for universities, at this point I thought: "okay architecture is great, I think I'll give that a go, BUT I really want to challenge myself and see if I can find something more involved in physics and mathematics." My counselor suggested engineering and that's ultimately how I ended in structural. I did note early on that the field is male-dominated but that just refocuses my energy to work harder and stay focused. Ultimately, I'm proud to say: "yeah I can still be a bad@#$ amongst all the men."

Tami Jansma
Civil Project Engineer
Seattle
Growing up I spent most of my time helping my father and my older brother on the farm and diesel mechanic shop. When I wasn't working with "the boys," I was playing in my sandbox building roads and towns just to flood them with the garden hose. Throughout high school I worked at a tire shop where I was the only female employee and when I graduated I went to school for land surveying. I worked a couple of summers doing some land surveying and construction staking. So, I decided to attend engineering school. There were very few female engineers at the last placed I worked and so I made it a high priority of mine to help out at local schools promoting women in STEM. I judged LEGO league for a number of years and helped a high school student put together a week-long science camp that was just for girls.
Here at DCI it is so inspiring to see more and more female engineers. I have never worked with so many females before and maybe it is just DCI's culture as a whole, but I find the environment to be very different than the other places that I have worked. I give that credit to the diversity of the company.

Joye Moore
Project Manager
Seattle
Surprisingly, I rarely think of myself as a female engineer until it is pointed out to me. While it's pretty hard to ignore the fact that the A/E/C is a male-dominated industry, I think that I just love what I do and that takes my mind off of that fact. I think my opinion stems from having several female role models. While I was in high school, several of my math and science teachers were female, and while I was in college, several of my engineering professors were female, so I never had doubts that this was something I could do. I think it's important to put the message out there for women that they shouldn't have to compete with the opposite gender solely based on a gender role. Believe in yourself, work hard, find your own style, find someone you can learn from, and remember that everyone is human.