The design earned the Timber Town project team the BB Green Award in the San Francisco Affordable Housing Challenge. As part of the international Bee Breeders' Affordable Housing competition series, the challenge tasked participants to submit building designs that pushed innovation while helping mitigate San Francisco's affordable housing crisis.
Architect Gould Evans proposed an underutilized but transit-rich site in proximity to downtown, in which they repurposed an automobile facility and parking lot into a live-work-grow affordable housing development. The kit-of-parts unit design is planned around rooms and functions—rather than number of bedrooms—to be adaptable/flexible to support diverse households (single professionals, couples, families or multi-generational).
"Low income housing shouldn't be made with the cheapest possible solutions, but instead, should be focused on providing healthy and sustainable communities for everyone," notes Jon Potter, DCI Project Manager on the Timber Town concept.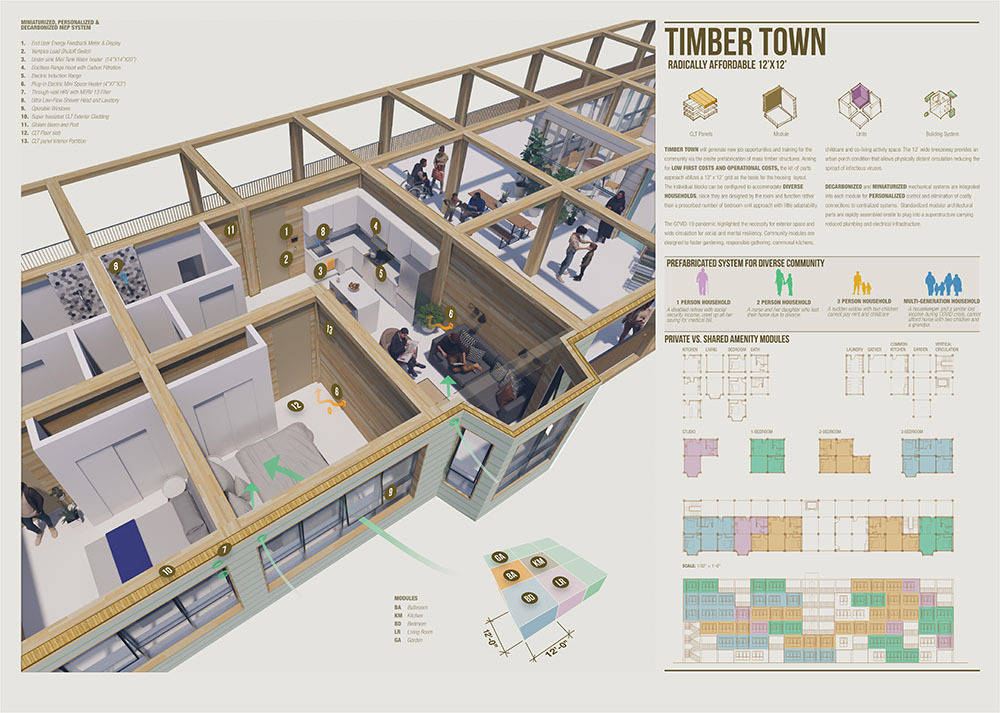 Not only does the application of mass timber provide biophilia benefits—a theory that humans seek and benefit from a connection with nature—it also serves as a sustainable building solution with amazing structural benefits. For this particular project concept, the use of mass timber would result in 9,490 tons of embodied carbon reduction. This is equal to roughly 2,419 vehicles taken off the road each year.
"It is important to tackle a systemic issue such as homelessness with a systematic approach," says Teresa Jan, Senior Associate with Gould Evans. "Our design strives for environmental justice and health equity for the residents through mass timber, building decarbonization and urban agriculture, building strategies that all reduce carbon and embodied carbon emission."
As mentioned earlier, mass timber also demonstrates superior structural benefits. CLT is an engineered wood product made by gluing layers of dimensional lumber at perpendicular angles to one another, creating a strong structural member that is highly fire resistant. It also allows for decentralized plug-and-play MEP equipment routing to be integrated to the prefabricated module. Future tenant improvements are also simplified, as wood can be cut whereas concrete and steel fall short.
DCI explored using panelized members for floors, roofs and partition walls, with the team ultimately deciding on a hybrid post and beam modular solution. Frames were built in a box grid with interchangeable modules that fit in between. This provided an almost entirely prefab system while also allowing maximum flexibility with the layouts. Even though the design is conceptual, DCI looked at a realistic grid spacing of 12x12, which is based on current CLT manufacturing capabilities.
The structural team did help the project team understand the potential for mass timber to go as high as 18 stories (new Type IV construction), of which will be available in the upcoming building code. DCI is already looking at this option for Bay Area projects and anticipates it will become a popular option.
Part of the team's goal was to keep jobs local. The concept includes an onsite manufacturing plant that would employ residents of the community and use sustainably-sourced California wood that could be transported to the site for an on-site press and CNC machine to create the structural elements.
Timber Town is a comprehensive solution for the affordable housing crisis. Modeled after the factory town, it proposes a self-sustaining economic and wellness model that encourages participation among residents and promises economic empowerment. The submission communicates above all that 'sustainable design' can and should extend well beyond the use of green construction materials, to become a means for implementing a holistic infrastructure that supports long-term affordable and healthy living, both for individual residents and for the wider urban community.
--Bee Breeders Jury Comments
Learn more about the design intention and inspiration behind the Timber Town project by visiting the Gould Evans blog post.