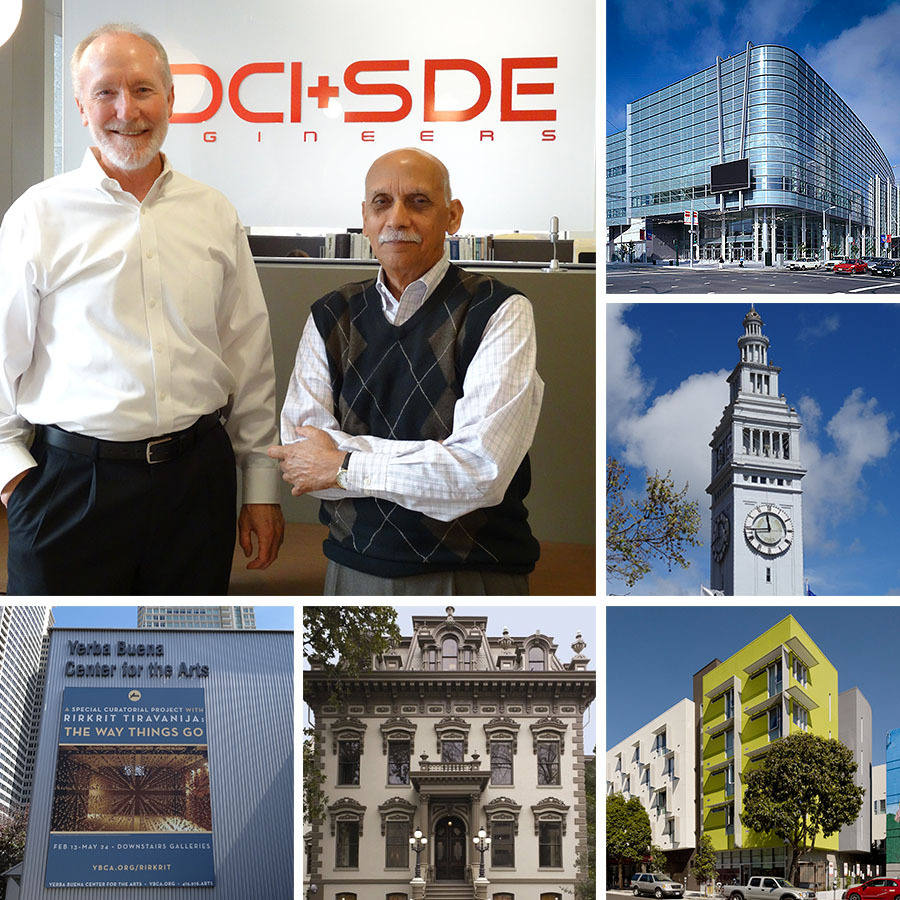 With more than 30 years of experience in the A/E/C industry, Principals Raj Sahai and Jack Laws have mastered the art of structural engineering and are renowned for making valuable contributions to the Bay Area's built environment. Positioning themselves as a credible, local small business, these entrepreneurs earned the trust of key decision-makers working for the City of San Francisco and architects from internationally recognized design firms. Throughout their careers, they have contributed to the historic preservation of San Francisco's heritage, such as the Ferry Building; the innovative systems introduced to the Moscone Center West (a part of downtown's convention center) which gave it greater seismic protection; and integrated structural systems for scores of high-rise office, affordable housing, and city building projects. They can be credited for their noble efforts in making San Francisco a more livable city, especially during economic market changes and as the city's population increases. So how did Raj and Jack determine DCI's business focus and collaborative spirit would bring even more benefit to San Franciscans and Bay Area residents?
Before the merge, Raj and Jack quickly discovered striking similarities between their firm and DCI's. Both structural engineering firms started out as entrepreneurial endeavors. Both had staff dedicated to the profession and driven to add "bigger picture" value to engineering solutions. Both firms encourage an office culture of creativity and value quality work. Raj and Jack soon appreciated the complementing strengths from both firms that offer their existing clients and prospects a new caliber of customer service. DCI brings design standards, document organization, and work allocation flexibility of a larger engineering firm; SDE brings the spirit and local knowledge of San Francisco and the instant rapport with the Bay Area A/E/C workforce. Raj and Jack also say it's their longstanding reputation in the community combined with the operations of a larger, well-run engineering firm that will continue to bring structural design innovation for Northern Californian clients.
"The project result is from the best of two practices - you get a very consistent product," Raj says. "It's been a very smooth transition, and I think that is the most important thing."
Jack couldn't agree more. A year before the merger, he acquainted himself with DCI staff and was impressed by the professionalism he observed from the firm's leadership and engineering teams.
"We probably weren't businessmen first, that's for sure," says Jack. "You can definitely see the advantage if you're on top of the marketing and business aspects of engineering. You can only grow like DCI does."
And have no fear, Raj and Jack are still here to offer their design influence on regional projects and cultivate the same spirit of engineering innovation among the new staff. They are always contributing to the profession, to the city of San Francisco, and ongoing relationships in the industry. Raj and Jack are busy behind the scenes doing what they are truly passionate about - being engineers.
Learn more about DCI+SDE's history in the Bay Area: