Going into effect July 1, 2024, these mandatory requirements are a change to the existing CALGreen 2022 code—the first-in-the-nation mandatory green building standards code—and will be expanded to incorporate all non-residential buildings greater than 50,000-sf on January 1, 2026.
While CalGreen's focus—and that of many nationwide AEC green building rating systems—has primarily been on reducing operational carbon (i.e. building energy consumption), the additional parameters zero in on the embodied carbon that comes with the construction of a building, including material sourcing, manufacturing, maintenance and disposal.
These embodied carbon reduction requirements build on California's Buy Clean California Act (BCCA) of 2017, extending the scope of the projects covered significantly, and adding concrete to the list of covered materials (which has included structural steel, reinforcing steel, flat glass, and mineral wool board insulation).
WHAT DOES IT MEAN?
The announcement marks a significant move for carbon reduction in the AEC industry as developers and project stakeholders look at tackling greenhouse gas emissions associated with the materials of a building. This is both a tremendous responsibility and a fantastic opportunity for our industry to create significant change.
"For years, our industry has been placing much of the responsibility of sustainability on the operations – the end users of a building. It's impactful but only to an extent," notes Roger Heeringa, DCI Principal in Charge of Sustainability. "We have an untapped resource of designers, subcontractors and suppliers that can push sustainable practices even further by focusing on the embodied carbon in our buildings – it's just a matter of stepping up to the plate now."
CalGreen 2022 also encourages local jurisdictions to elevate their sustainability goals beyond the mandatory requirements by publishing two "voluntary" tiers of additional requirements in the form of Tier 1 and Tier 2 (see below table). These could be mandatory if a local ordinate specifically adopts them, but this adoption has varied widely throughout the state.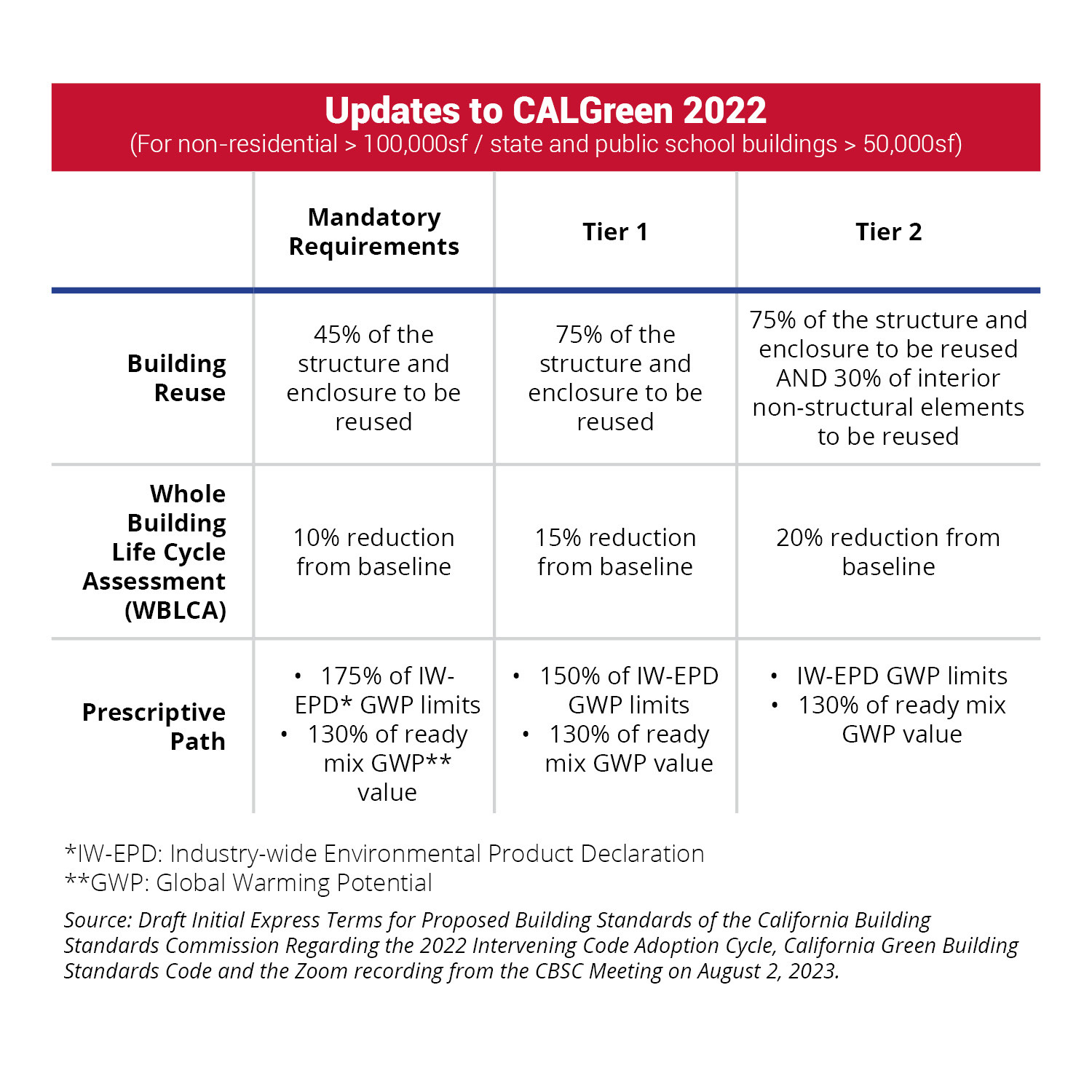 DCI Engineers, a signatory firm for the SE 2050, is well versed in the types of requirements these represent for our clients and is positioned to work with our project partners on integrating these changes effectively, efficiently and enthusiastically.
In addition to our decades of green build experience—which has included several Living Building, LEED and Green Globe certifications—DCI leverages guidance in:
Adaptive-Reuse, Historical Renovation and Seismic Retrofits
Comprehensive Life Cycle Assessment Experience & Services Offered
Years of Structural Design Experience with a Focus on Material Optimization
Design Expertise with Low Impact Materials like Mass Timber
Specifications Geared Toward Meeting Prescriptive Material Compliance
Familiarity with Environmental Impacts of Available Material Suppliers & General Low-Carbon Material Market Trends
"It's about time our industry takes more responsibility for the embodied carbon impacts of the built environment," emphasizes Jessica Martinez, DCI Sustainability Specialist. "With our structural design expertise, extensive knowledge of low-carbon materials and years of life cycle assessment experience for LEED, we're ready to help our clients every step of the way."
DCI will be providing resources and learning opportunities for our clients regarding the updated CALGreen code adoption in the coming months. Be sure you're following us on social media or reach out to the DCI Sustainability Team if you'd like to learn more: sustainability@dci-engineers.com.
We're here to support California's building future and are excited to get to work!