If you talk to Wade, you quickly learn he is comfortable taking the road less travelled. This mentality is what drove his engineering career of 40+ years, as well as his penchant for cycling on new terrain. He and his wife are now ready for a new chapter when he retires from DCI in late 2021. They will keep Portland as their home base but plan frequent travels adventures, such as a bike tour next fall to Costa Verde of northern Spain.
When he is not globetrotting, Wade plans to write some articles about some of his unique engineering experiences. He has always wanted to write, but didn't have the time because of the demands of his day job. When asked if he wants to be a freelance writer, he quickly says that idea is too ambitious for now.
It's hard to imagine how anything would be too ambitious for Wade. He helped with the development of ASCE 41 for more than a decade. Wade became interested in renovation of unreinforced masonry (URM) buildings after he engineered the repairs of the Blagen Block, after a fire gutted one of Portland's remaining cast iron landmarks. Through this project, he learned how upgrading existing buildings in high seismic regions was not clearly defined. His quest led him to the American Society of Civil Engineers' Standards Committee which writes the national guidelines for seismic upgrades of existing buildings.
"At the time, there wasn't much information on how to upgrade that sort of building," Wade said. "I was getting different answers from different people from the City of Portland. That's what was so interesting about it, there was a lack of direction. That was the reason I got involved with existing buildings."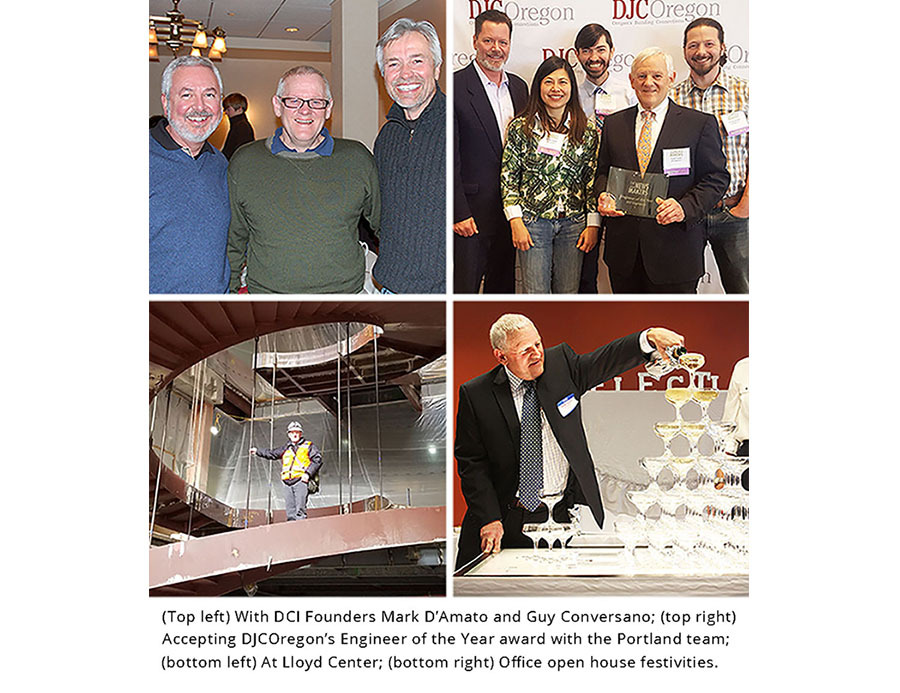 As his expertise grew in restoration and new construction projects, Wade was approached by a client to demolish the Lloyd Center barrel vault roof that spanned 150 feet over the ice rink. The project scope was to calculate the weight of each piece which would be cut out for deconstruction. Similarly, there were very few prescriptive standards for demolition projects. Wade became a quick-study on demolition and found ways to apply them to this new line of work. Demolition engineering boils down to keeping people safe; keeping adjacent properties safe; and taking down the structures as quickly as possible. Other aspects of demolition work involves calculating weight; determining if heavy equipment can operate on existing floor systems or a site; and determining demolition sequencing.
Wade's demolition projects grew to include projects such as the Trojan reactor containment building (RCB) in Rainier, Oregon and two Zion RCBs in Illinois – both projects comprised of deconstructing massive concrete RCBs without explosives. Wade developed a bottom-up method of demolition that used a giant jackhammer mounted on large excavator to bust the concrete walls at the base until the structure dropped inch by inch in a controlled manner.
Wade's advice to young engineers just starting in the profession is to find a niche market expertise, just as he did with URM and demolition projects.
"Get super good at that niche," he said. "The one thing about my career is that I had too many niches – too many interests. I love all the nuances of engineering. For me, it eventually came down to applications of existing buildings – finding new ways to assess and analyze, upgrade, and retrofit."
What made working at DCI Engineers different than other firms was the intense business development efforts, Wade said. He credits former DCI Business Development Director Don Tuttle for pushing him out of his comfort zone and actively seeking new work for his Portland team.
"At one point in this industry, you were selected for work simply on your credentials," he said. "Today's market is different. I always fell back on my mantra that the work will come to you when you do a good job. Don was the first guy who convinced me to actively develop new business by chasing leads."
As Wade wraps up his projects, he optimistically watches his team members take on leadership roles and new creative work. He passed on his lessons about being a nimble resource for clients, subcontractors, and colleagues. He encouraged them to be enthusiastic about the industry's advancement in technological tools and complex code changes – because it's always changing.
"They are a solid team – they can meet any challenge you give them," he said. "They surprise me on how quick they start on challenging projects – they just run with it."