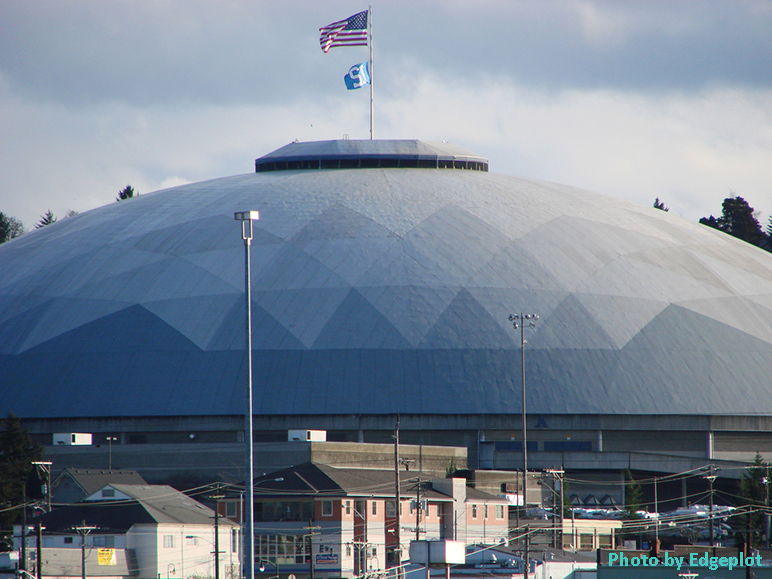 Seattle/Tacoma
The Tacoma Dome: At the time of its opening in 1983, the 152-foot tall Tacoma Dome was listed as the largest wood domed structure by volume in the world. Built for $44 million, the general purpose facility can seat 30,000 people and is used for holding sports games, concerts, and exhibitions. The Tacoma Dome's structure is a framework of carved glulam timbers in triangular shaped units that are connected with steel hubs. The dome has an interior diameter of 530 feet and a clear span of 510 feet. 24,541,382 cubic feet of concrete was used for the exterior. The interior contains a recently installed aluminum 384' x 160' truss grid for hanging production lights, curtain motors, and rigging. A lightweight aluminum super-grid was chosen for hanging from the dome's main ceiling structure.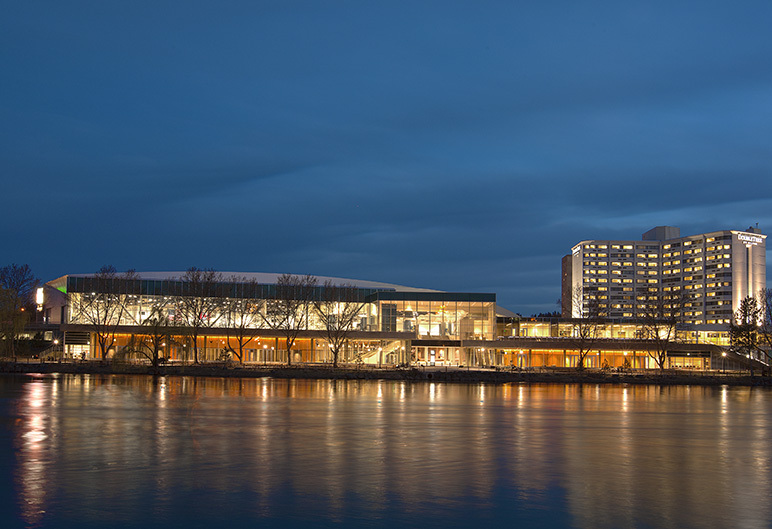 Spokane
The Spokane Convention Center: DCI recently completed work on the convention center's $50 million expansion which added an additional 20,000-sf of meeting space and another 20,000-sf of exhibit space, public area, circulation, and back-of-house space. The engineering team designed an open floor plan with 16 long span steel trusses to lessen the number of vertical support columns needed for the new area. DCI also engineered micro piles, caissons, and spread footings to support the foundation system and work around automobile-sized boulders discovered in the site's subsurface. The expansion allows the Spokane Convention Center to attract major national and regional conventions. The facility can now hold other events simultaneously when hosting a separate major convention.
Portland
Providence Park (formerly Jeld-Wen Field): This stadium located in the heart of downtown Portland was originally built in 1926. After a recent $40 million renovation to reconfigure the field for soccer and American football, it is now the only Fédération Internationale de Football Association (FIFA) recommended soccer playing field in Oregon. The field has 96,000-sf of new FieldTurf Duraspine PRO playing surface. 613,514 pieces of rebar and 800 tons of steel were used to complete the renovation. A new cantilevered steel canopy clad with cedar shelters the premium club seats and provides a contemporary look to the existing wood roof structure. Providence Park seats 20,000 people attending games for the Portland Timbers, Portland Thorns, or Portland State University Vikings. The current amenities and space also allows the stadium to be used for other events, such as concerts and civic gatherings.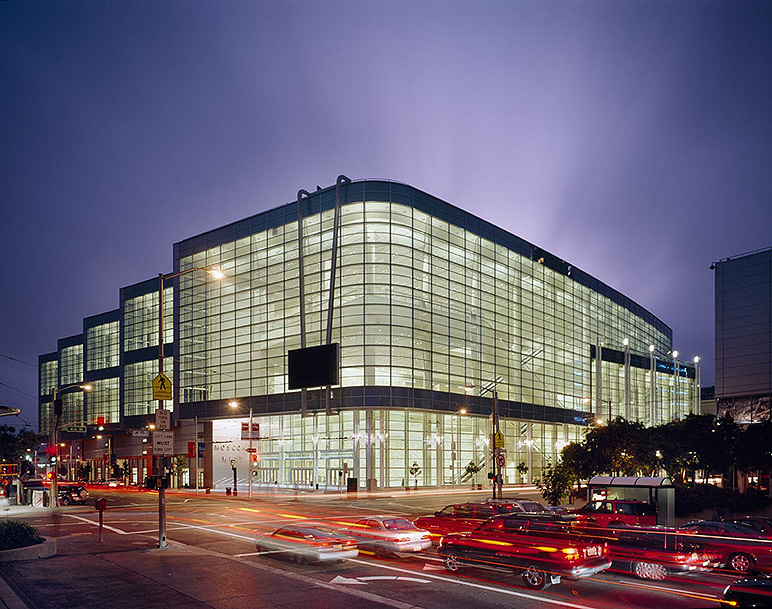 San Francisco
Moscone Center West: DCI principals Raj Sahai and Jack Laws were the senior engineers who developed an economical, yet robust structure for this three-story above-grade convention center building and engineered it to be an "immediate occupancy" venue benefitting the citizens of San Francisco. Their collaborative relationship with Gensler and Kwan Henmi Architecture & Planning, Inc. brought this high-profile project into a recognizable downtown destination.
Mr. Sahai advanced the development and application of a state-of-the-art coupled girder moment resisting frame (CGMRF) system for this project. He was granted a U.S. patent in 2001 for this system. He also introduced friction dampers as part of the structural system. With these two innovations, the Moscone Center West structure could allow immediate occupancy following a major earthquake; thus potentially saving a very significant amount of future earthquake damage repair costs and protecting the substantial public investment for this important San Francisco civic institution.
The architectural and functional design of the Moscone Center West had the ideal geometry and configuration for the coupled girder system because of the building's 35-foot floor-to-floor height and deep ceiling spaces. The coupled girder system's girders, columns, and girder-to-column connections were tested with cutting edge testing equipment which simulated three levels of tension and compression forces simultaneously. In-house finite element analysis of the coupled girder lateral force resisting system verified the performance integrity. The moment connections were then tested at the University of Nevada - Reno for combined axial load and bending in a post-elastic deformation condition as required by the established protocol. The tested girder-to-column connections yielded as predicted by the finite element analysis, with every connection passing without a single fracture per protocol requirements.
The structure was designed to comply with code for immediate occupancy criteria. This means after a major earthquake event in San Francisco, Moscone Center West could serve as a civic emergency center or public shelter since the structure would likely only suffer minor and easily repairable damage. This design saved the city $2 million by selecting structural components that were lighter in weight and required less material. By using less raw material, the building design is a green concept.
Mr. Laws led the design team on the gravity system designed to handle higher live loads of a convention center with long spans of up to 110 feet for the floor framing and 200 feet for the roof framing. The Moscone Center West structure used 16,000 tons of steel, which was fabricated in seven fabrication plants located in three countries.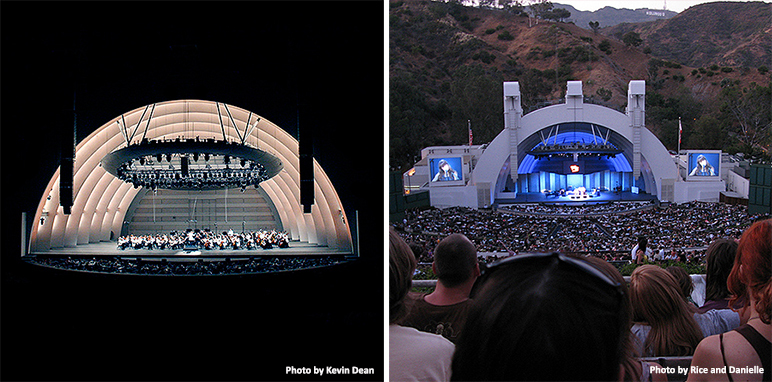 Irvine/Los Angeles
Hollywood Bowl: Formed by a tectonic drift in the landscape, this organically configured amphitheater nestled in the Hollywood Hills provides natural acoustics and tiered seating for about 17,500 visitors. Renovated in 2003 to preserve its iconic concentric ring look, the shell of the main stage's acoustical canopy is now 30% larger and has improved sound quality. The new canopy is structured by a steel and aluminum trussed frame clad in curved fiberglass. The largest truss is 60 feet tall by 130 feet wide and weighs 25,000 lbs. The total renovation and construction of the new additions estimated around $25 million.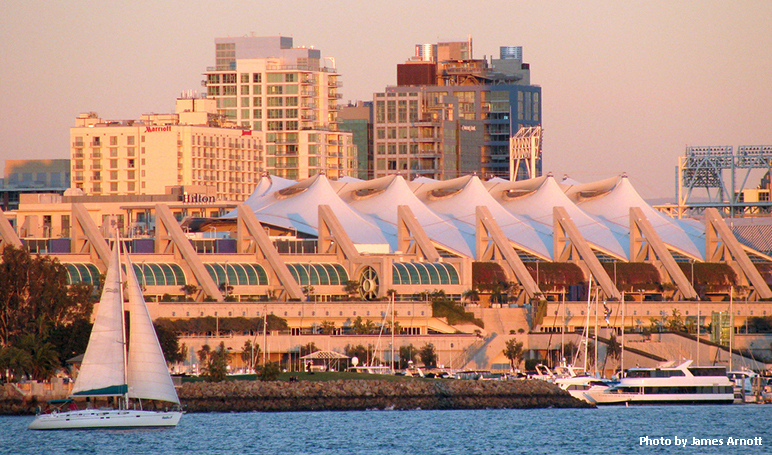 San Diego
San Diego Convention Center: This popular destination convention center is 2.6 million-sf and is a LEED Silver certified building. Its' steel structural system is clad with glass fiber reinforced concrete (GFRC) panels. The San Diego Convention Center's 90,000-sf rooftop Sail Pavilion exhibit features large tensile structures with masts up to 88.5 feet in length.
The convention center is undergoing a Phase III expansion project to increase its capacity by 33%. The expansion will include a five acre rooftop park of various plazas and public green spaces to accommodate more outdoor civic and professional events.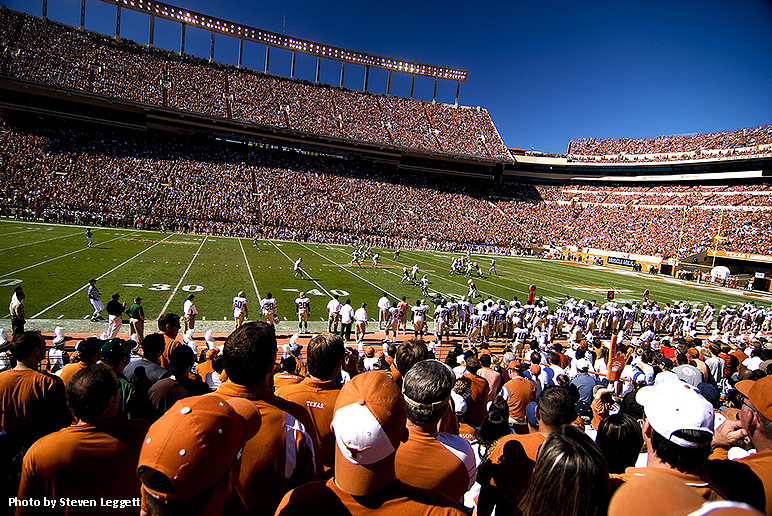 Austin
Darrell K. Royal – Texas Memorial Stadium (University of Texas): The Home of the Longhorns can draw more than 100,000 fans during game time. It was once the largest capacity college football stadium in the state. To steal the thunder from Texas A&M's Kyle Field, UT approved a $62 million stadium improvement project to upgrade the athletic and academic facilities within the existing stadium structure. To develop a project scope and schedule, UT Athletics initiated a feasibility study to evaluate expansion possibilities, cost analysis, and structural analysis. The original stadium was built in 1924 and has gone through several renovations over time. Past upgrades included structural steel fireproofing and additional foundation support.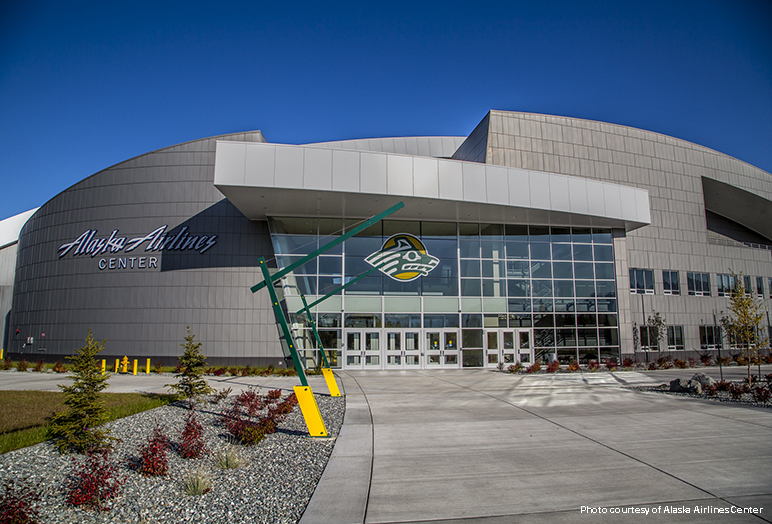 Anchorage
Alaska Airlines Center: This recently built sports and entertainment facility is located on the University of Alaska Anchorage campus at the foothills of the Chugach Mountains. It's the new home of Seawolf athletics and a first-class destination for community events. The $109 million Alaska Airlines Center seats 5,000 spectators and is 196,000-sf of space. The building's height and design is unusual for an events arena of its scale, but the facility suits the community and the state-of-the-art amenities attract event organizers, particularly from out of state.
The rounded shaped roof is a critical design feature to shed snow from the roof. Ribbed insulated metal wall panels were hung from structural rails to create the building's rainscreen cladding. The maximum length of a wall panel is 25 feet and was connected with spliced plates. The construction crew installed the wall panels with 0.05 inch aluminum concealed fasteners (with an anodized finish) to enhance the wall system's durability. The structure and building envelope were completed before the winter arrived so the crew could be on schedule to work the interior elements.