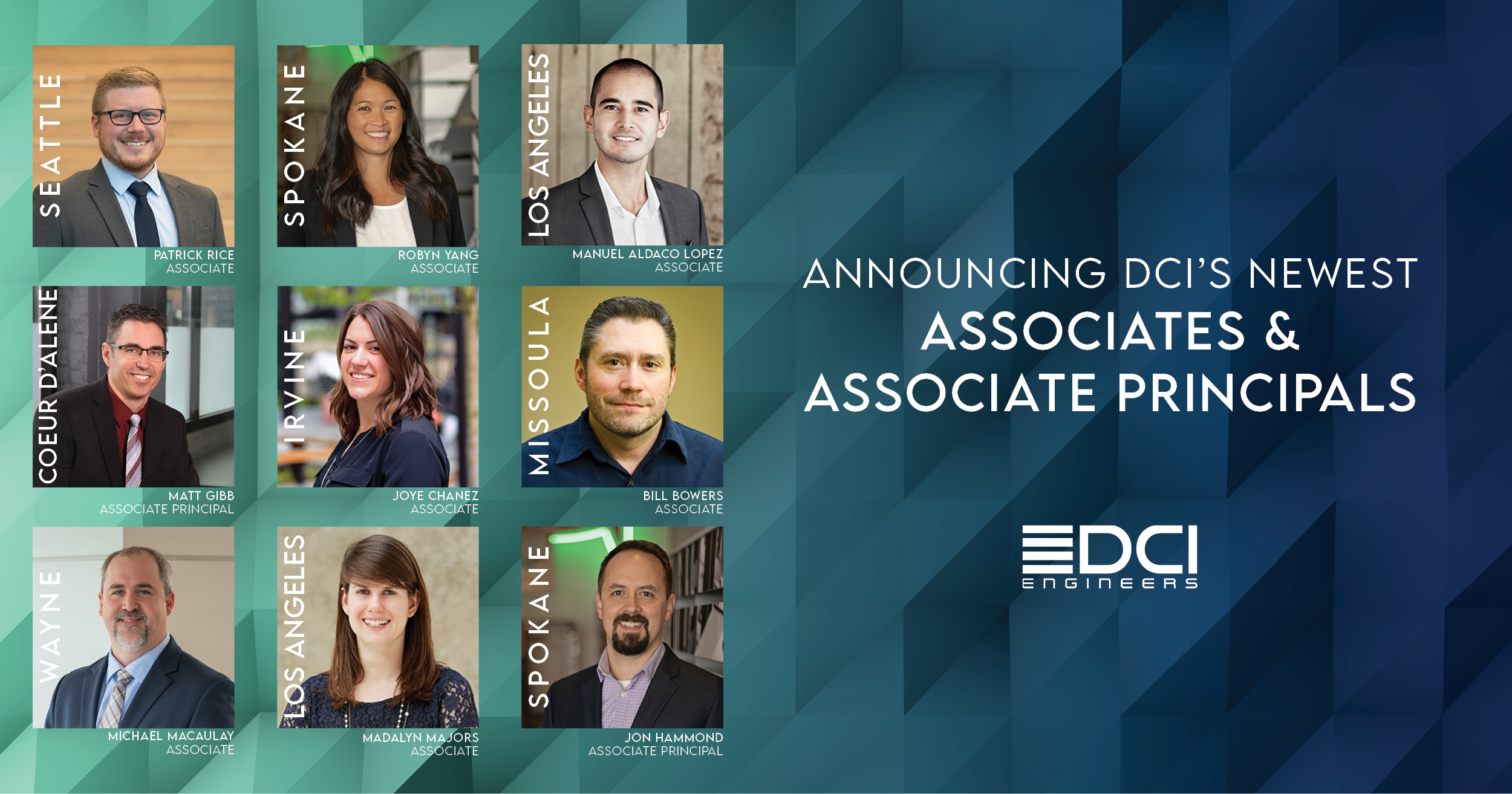 Jon Hammond has been promoted to Associate Principal in our Spokane office. Jon joined DCI in August 2022 and has provided valuable legal counsel since. As corporate counsel, Jon assists DCI with risk management, corporate governance, and transactional issues. He values giving timely legal opinions to guide the company while looking for opportunities to chart the best path forward.
Matthew Gibb, PE, has been promoted to Associate Principal in Coeur d'Alene. Since joining DCI as a civil engineer, Matt's project experience with the private and public sectors expanded from Spokane into Northern Idaho, Montana, the Tri-Cities, and Western Washington, Oregon and California. His talent with project management led to new business development pursuits and a strong working relationship with the Spokane International Airport.
Patrick Rice, PE, has been promoted to Associate in the Seattle office. With more than a decade of structural engineering experience at DCI, Patrick brings a down-to-earth approach to engineering. His expertise is in quality control and city codes, which makes him an excellent technical resource and senior project manager for clients and subcontractors. He is a reliable resource when it comes to producing complex designs as he has managed almost every type of project and material there is.
Robyn Yang, PE, has been promoted to Associate in the Spokane office. After graduating college, Robyn started her career with DCI's Seattle office and has done everything from construction administration and honing her design skills on components of projects to managing entire projects. As a senior structural engineering project manager, she currently specializes in projects involving core and shell elements and tenant improvements. She is co-chair of DCI's tenant improvement committee and aids her colleagues with her expertise in brand-specific built environments. Located in the Spokane office, she serves clients along the west coast and her project locations range from coast to coast.
Manuel Aldaco Lopez, PE, SE, has been promoted to Associate in our Los Angeles office. Manuel began at DCI by designing specific elements in projects and worked up to designing whole buildings. He directs and mentors groups of designers and engineers in training on various projects. His work can be found throughout the West Coast and down to Texas. His expertise lies in mixed-use podium projects, offices, and hospitality buildings.
Madalyn Majors, PE, has been promoted to Associate in our Los Angeles office. As a senior structural engineering project manager, Madalyn has been with DCI since 2016 and has overseen structural analysis, calculation reports, design of framing systems, and other project action items requiring her leadership. She cut her teeth designing specific systems for the VOX residences in LA and was co-managing design and construction when construction finally got underway. Madalyn's portfolio includes luxury high-rise residential projects, renovations, industrial projects and more. She is a member of the in-house bridge design, concrete, modular, steel, and quality control technical committees.
Joye Chanez, PE, has been promoted to Associate in our Irvine office. Joye has worked in both DCI's Seattle and Irvine offices. She has served as chair (now co-chair) of the tenant improvement committee since 2018 where she has developed many tools and resources to help streamline projects in the company. As a senior structural engineering project manager, she also takes on the role of mentor for many young engineers, including those outside of her office and region. Some of her projects include the One De Haro tenant improvement, 3090 S Bascom affordable housing, 312 Central Way high-end mixed-use (Parque Kirkland) – Which was a 2022 AGC Build Washington Award recipient and the Cedar Speedster-which earned a Design Excellence Award from Woodworks. Above all, Joye is most proud to be a mom to two young girls – Rylee and Aubrey.
Michael Macaulay has been promoted to Associate in our Wayne office. Mike manages the Wayne office's BIM department. He's usually got a lot on his plate, but he always manages to keep an even keel.
Bill Bowers has been promoted to Associate in our Missoula office. Bill is the BIM department manager for the Missoula office. He has worked on everything from large steel bridges to steel constructed commercial buildings to modular buildings and precast concrete projects. He's developed templates for precast concrete projects and templates for modular projects.