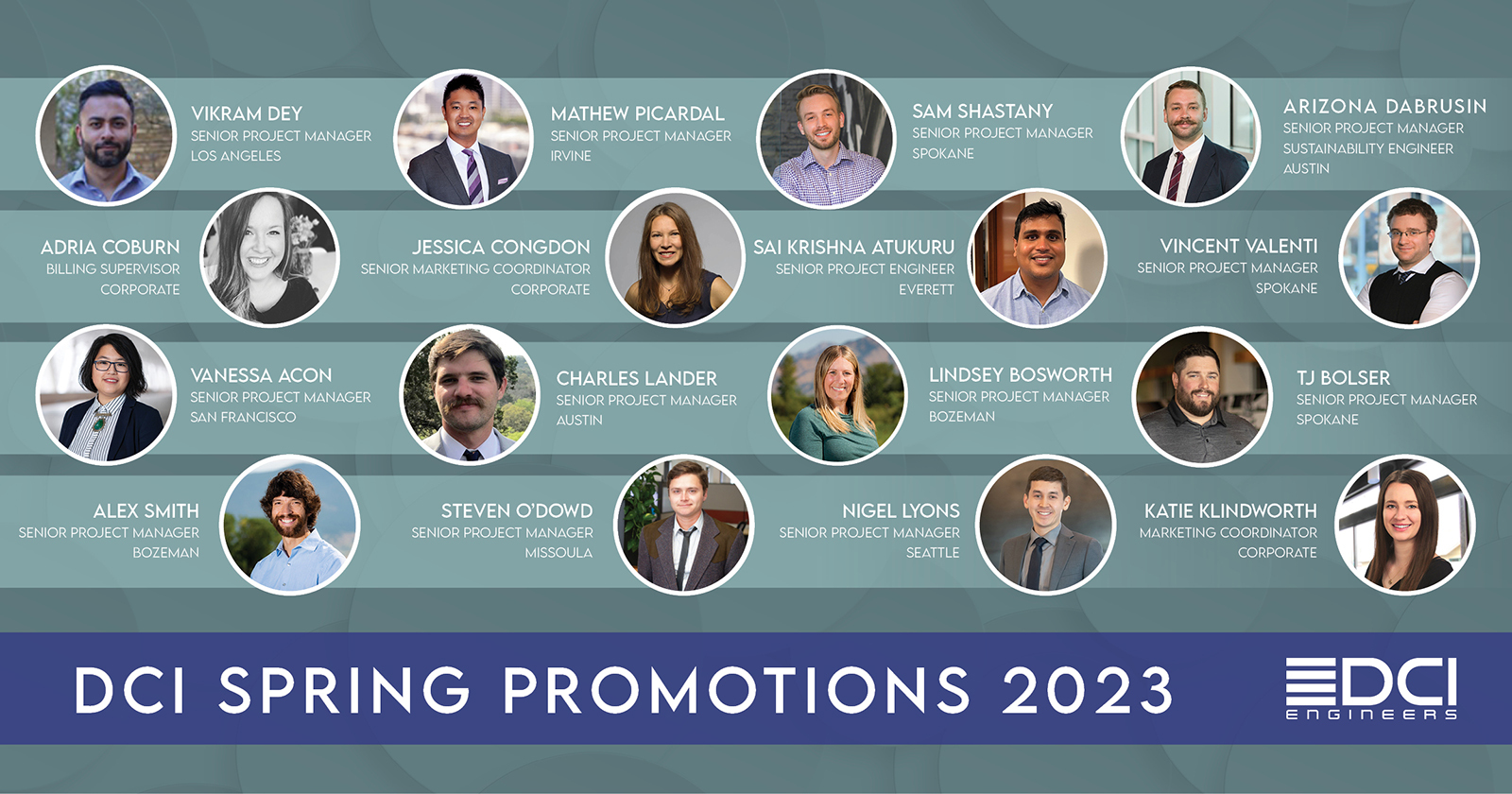 Vanessa Acon, PE, has been promoted to Senior Project Manager in the San Francisco office. Vanessa joined DCI in 2015 and has diligently worked on a little bit of everything in her time here. She enjoys work on steel and concrete high-rise projects and serves on several technical committees. Her work can be seen on the UC Berkely Helen Diller Anchor house, a 14-story concrete student housing project which she did the performance-based design for.
Mathew Picardal, PE, SE, has been promoted to Senior Project Manager in the Irvine, California office. Mathew has been with DCI for eight years. In that time, he has become an integral part of the design and construction process for many DCI projects. Using the latest technologies and performance guidelines, Mathew offers insight to the entire project team in his role as Senior Project Manager.
Sam Shastany, PE, has been promoted to Senior Project Manager in DCI's Spokane office. Sam is a Civil Engineer and works with project groups to determine design improvements that greatly affect scheduling and budget. Sam has been with DCI for six years. He has years of design experience with stormwater drainage systems, grading, utilities, traffic generation analysis and cost estimates.
Nigel Lyons, PE, has been promoted to Senior Project Manager in DCI's Seattle office. Nigel joined DCI eight years ago after he met Principal Dick Hemmen at a networking event while attending the University of Washington in 2015. He was hired that same year and has since gone on to design and support all sorts of projects, ranging from commercial mixed-use projects and high-rises to residential developments. Nigel's expertise is in concrete design, with high profile projects like Avenue Bellevue, a 1.3M-sf, two tower apartment complex.
Lindsey Bosworth, PE, has been promoted to Senior Project Manager in the Bozeman, Montana office. Lindsey started at DCI as an intern while she was earning her master's degree in civil engineering from Montana State University and came onboard full-time upon graduation. Her first projects were historical renovations and residential projects and now her portfolio contains a variety of project types. She frequently lends herself to contractors and other project members seeking engineering guidance at the project site.
Steven O'Dowd, PE, has been promoted to Senior Project Manager in the Missoula, Montana office. Steven first joined DCI four years ago and has over 10 years of engineering experience. At DCI, he's worked with every type of material there is for commercial, mixed-use, residential and educational projects in Montana. He is a member of DCI's bridge design, mass timber, modular and existing buildings committees.
Charles Lander, PE, has been promoted to Senior Project Manager in the Austin office. Charles has been with DCI for four years and has been working in structural engineering for nearly 10 years. He currently supports many of DCI's multi-family, hospitality and commercial projects. His analytical perspective, collaborative problem solving approach and design know-how make him a great resource for his clients and colleagues.
TJ Bolser, PE, has been promoted to Senior Project Manager in the Spokane office. TJ joined DCI in 2016 after graduating Gonzaga University with a Bachelor of Science in Civil Engineering. He specializes in mixed-use podiums, tilt-up warehouses and custom homes. He is a member of DCI's Bluebeam, foundations and shoring, concrete and wood committees.
Vincent Valenti, PE, has been promoted to Senior Project Manager in the Spokane office. Vincent has been with DCI for four years. He graduated from the University of Alaska, Anchorage with a master's degree in civil engineering. His work includes the Spokane County Sheriff's Office's Small Arms Range, a firing range and training center for the Spokane County Sheriff's Office and the Air Force, which includes 21 shooting lanes, classrooms, a shoot-house training area and a rappel tower. He also helped design the St. Luke's Lutheran Church in Spokane which features custom glulam trusses and high pitched ceilings.
Vikram Dey, PhD, PE, has been promoted to Senior Project Manager in Los Angeles. Since joining DCI, Vikram has extended his engineering experience to design mid-rise and high-rise construction using concrete and steel using code-based and performance-based design principles. He has also worked on projects with concrete tilt-up construction and volumetric wood modular, along with undertaking multiple tenant improvement projects. He is a member of in-house technical committees for concrete, wood, modular and high-rise. Vikram is also a member of the Structural Engineers Association of Southern California.
Alex Smith, PE, SE, has been promoted to Senior Project Manager in the Bozeman office. Alex has worked on projects of all types, from K-12 schools, commercial and hospitality projects, to special structure projects like an outdoor art installation in Fishtail, Montana. With an easy-going approach, Alex strives to provide creative solutions in all phases of project development, from concept design to construction support. He is a member of the firm's in-house wood, steel and aluminum and masonry technical committees.
Sai Krishna Atukuru has been promoted to Senior Project Engineer in the Everett, Washington office. Sai joined DCI a year ago and has quickly proved himself a valuable asset to the team. Since joining in 2021, Sai has grown his skills in load bearing and non-loadbearing CFS projects and tilt-up design projects. He has familiarized himself with cold formed steel and concrete projects and is proving his proficiency in modular design projects.
Katie Klindworth has been promoted to Marketing Coordinator in the Spokane office. Katie graduated from Washington State University and joined DCI in 2015 before briefly leaving and then returning in 2021. Katie creates graphics for corporate promotional use and prepares SOQs for DCI's Texas and Denver offices. Her organizational skills, event planning and networking have helped advance DCI team proposals.
Jessica Congdon, CPSM, has been promoted to Senior Marketing Coordinator in the Seattle office. Jess joined DCI in 2021, bringing eight years of AEC marketing experience with her. Shortly after joining DCI, Jess earned her CPSM (Certified Professional Services Marketer) certification. Jess' determined work-ethic produces graphics for brochures, SOQs, proposal packages and more that highlight the great work our engineers do. Outside the office, Jess is an active member of SMPS Seattle and serves as the 2022/2023 SMPS Seattle chapter president.
Adria Coburn has been promoted to Billing Supervisor. Adria started at DCI in 2006 as a part-time receptionist while going to college and six months into the job, she transitioned to accounting full-time. Her work helped DCI continue operating when the pandemic began and the industry experienced its impacts. Adria has worked in more DCI offices than perhaps anyone else; she spent four years at the Spokane office, nine years in the San Diego Office and is now a remote employee for the Denver Office.