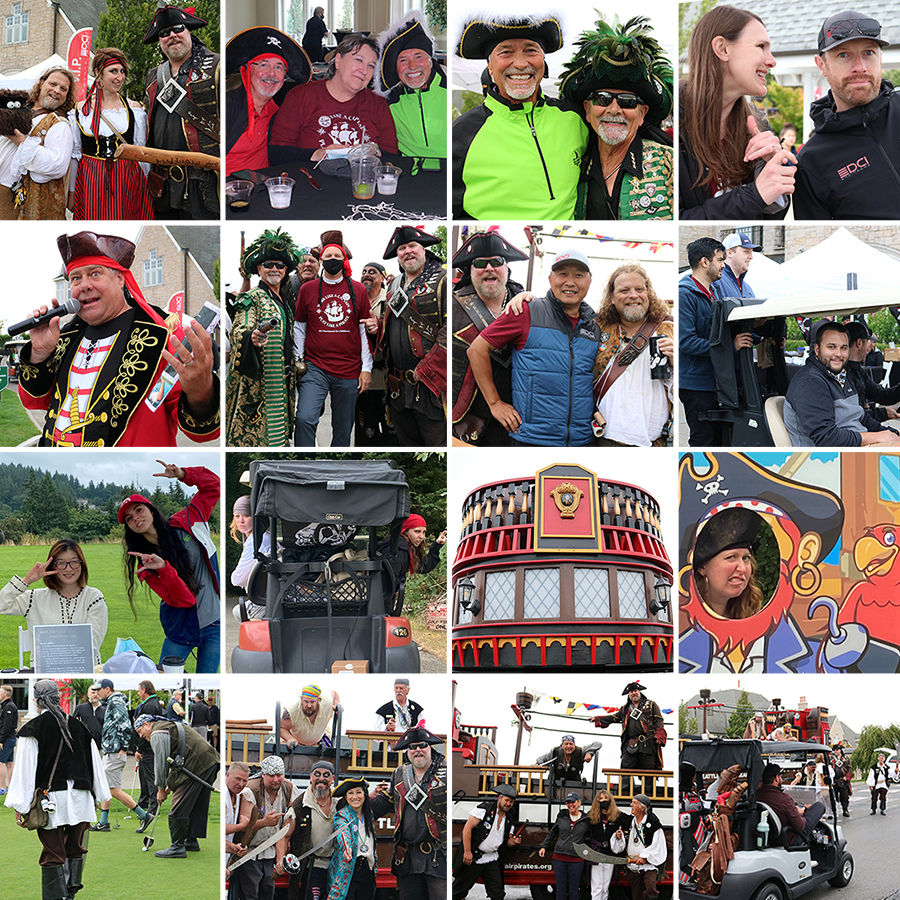 DCI's annual golf tournament was back on track after last year's shelter-at-home hiatus. Many heartfelt thanks to our sponsors, donors, and staff who made 2021 a record-breaking fundraising achievement! We had a great turnout, typical Northwest marine weather, and the fastest play in our tournament's history. The Seattle Seafair Pirates landed at the Golf Club at Newcastle and brought their parade boat, Moby Duck, for swashbuckling fun. For the whole day, the energetic Troy McVicker was master of ceremonies.
The sold-out event raised almost $90K benefitting local non-profit Childhaven. One of the featured fundraising activities this year was a treasure hunt – participants paid to play the game to win extra prizes at designated tents. Daniel's Broiler generously donated $10,000 worth of $50 gift cards for our players to win and support the local business! Plus, treasure hunt participants had a chance to covet the grand "buried treasure" prize, a Yeti cooler filled with outdoor gear.
With the funds raised, Childhaven can continue their programs in breaking the cycle of abuse and neglect to more than 300 disadvantaged children at its facilities in Seattle. During the auction dinner, Childhaven board member Bareq Peshtaz spoke about how the pandemic has been particularly challenging for the non-profit in supporting the many children and families in the community who need help. He reiterated how the monetary contributions from the tournament allow essential therapy to remain accessible to their clients.
A shout out to all our amazing sponsors: CBIZ Bernston Porter, PLLC; SilverEdge; Blazing Bagels; Albrecht Birkenbuel; Garco; Trent Development; Graphite; Caron; Wide Format Company; Bayley; Brown & Brown Insurance; BRPH; BuildGroup; Compass Construction; Jackson|Main Architecture; JTM Construction; Largo Concrete, Inc.; Lydig; Mayes; Terracon; Onelin Capital Corporation; PCL; Ryan Companies; Skanska; Swinerton Builders; Walsh; and Turner.
Bountiful donations came from these businesses and contributors: 8th Generation; All-Waters Flyfishing; Blue Elk Inn; Brian Carter Cellars; Central Cinema; Chambers Bay; Daniel's Broiler; DCI Engineers – Austin; DCI Engineers – California; DCI Engineers – Montana; DCI Engineers – Portland; DCI Engineers – Spokane; Firebrand Hotel; Grant Buckingham (DCI); Greg Gilda (DCI); Gregg Rogers' Golf Performance Center; Icicle Outfitters; Ivar's/Kid Valley; John Tessem (DCI); Kris Swanson (DCI); Michael Medina (Graphite Design Group); MOPOP; Munchen Haus; Museum of Flight; Novelty Hill/Januik Winery; Paddy Coynes Irish Pub; Paul Rogness (DCI); Roger Heeringa (DCI); Seattle Theatre Group; StayPineapple; The Confectional; The Resort at Port Ludlow; Tom Xia (DCI); Trophy Cupcakes; Tutta Bella; WA State Fair Events Center; and Whitefish Mountain Resort.
First place foursome winners of the tournament were Bareq Peshtaz, Matt Steele, Patrick Jentz, and Joel McQuade. Second place winners were the Brown & Brown team: Daniel Smith, Jamin May, Henrick Oiseth, and Zubin Tejani. The Seafair Pirates also honored DCI with a plaque and ship helm clock for being supporters of "The Pirates Landing" for many years.
The camaraderie we shared on the golf course and at dinner reminded us all that gathering as an AEC community is still relevant in our profession, and elevates everyone in our network!
Enjoy the pictures and think about sponsoring and joining DCI's charity golf tournament next year!