One such relationship includes structural and acoustical engineers.
Erik Miller-Klein, Partner and Acoustical Consultant with A3 Acoustics in Seattle, notes there are two main aspects of a building project that he coordinates with structural engineers most often. One, is the addition of fitness facilities, which are—more regularly—being moved from the ground floor to the upper levels of apartments and hotels, including the roof, as seen in this swanky Hollywood apartment complex that has both a rooftop gym and pool.
The uses in these facilities create low-level surface vibrations, which can transfer throughout the structure and radiate through glass and drywall, turning a minor disturbance into a major problem for tenants.
The other scenario is the mechanical system, specifically rooftop mechanical systems. Erik says that understanding vibration control elements is particularly important as developers are going to more lightweight, unique structures.
As clients look to create more open, unobstructed space in buildings, structural engineers are tasked to create longer spans with less materials, which in turn creates a challenge for acoustical engineers to "keep things quiet."
Michael Yantis, Principal at Stantec and acoustics expert of 43 years, points out the long spans of performance facilities, where the structural deflection of the roof and the weight of hung equipment is a balancing act.
"We want to get the roof many times stiffer so it doesn't vibrate in symphony with the equipment," Michael says, "and sometimes we have to get it close to the boundary conditions of the roof, like a column for example, which is then an architectural issue."
DCI Principal Justin Cook agrees that it's usually three-channels of communication.
"Our interaction is understanding what they (the acoustic engineers) need, or rather, what they will likely need from us," he says. "This usually happens around design development and a bit in schematics, so it's architecture, structural and acoustic interaction."
This constant balancing act demonstrates why successful design doesn't come from a vacuum.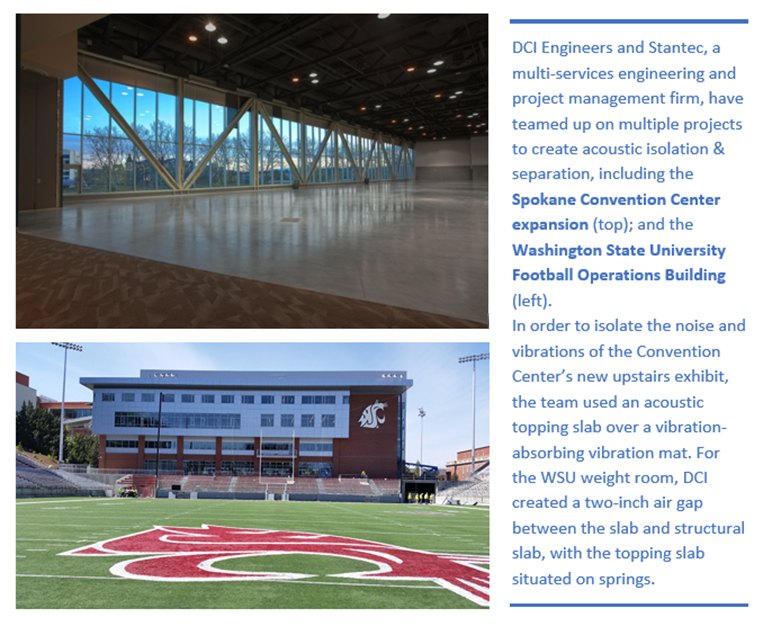 THE SCIENCE OF VIBRATION
Acoustical engineers often specify use of Vibration Isolation Systems (VIS) to significantly reduce and control transmission of disruptive noise and vibrations from equipment—such as MRIs, lab equipment, HVAC systems and industrial washing machines—into a building's structure, notes Mark Moorleghen, DCI Principal. In addition to minimizing disruption to human activities, vibration isolation and the use of "snubbers"—structural stops specified with or built into VIS—often protects the equipment from damaging itself or damaging other equipment. Snubbers protect the equipment from accelerations caused by seismic activities.
In physics, we learned Force = Mass x Acceleration; so, an acoustical engineer's goal, as explained by Erik Miller-Klein, is to minimize acceleration by isolating forces created by the machinery. Rather than installing sensors and actuators that produce interferences that cancel-out incoming vibrations, an acoustical engineer will enlist the help of a structural engineer to isolate those forces by adding mass to the structure.
For the Alliance Behavioral Hospital in Tacoma—a new, two-story, 120-bed facility—DCI and A3 Acoustics worked to dampen the noise and vibration from the mechanical equipment by adding a four-inch-thick concrete pad under the mechanical units, which extends about a foot beyond their edges and was accomplished with minimal additional costs.
Although adding mass can translate to additional costs, DCI's engineers work closely with the acoustic team to overcome challenges while minimizing the impact to budget.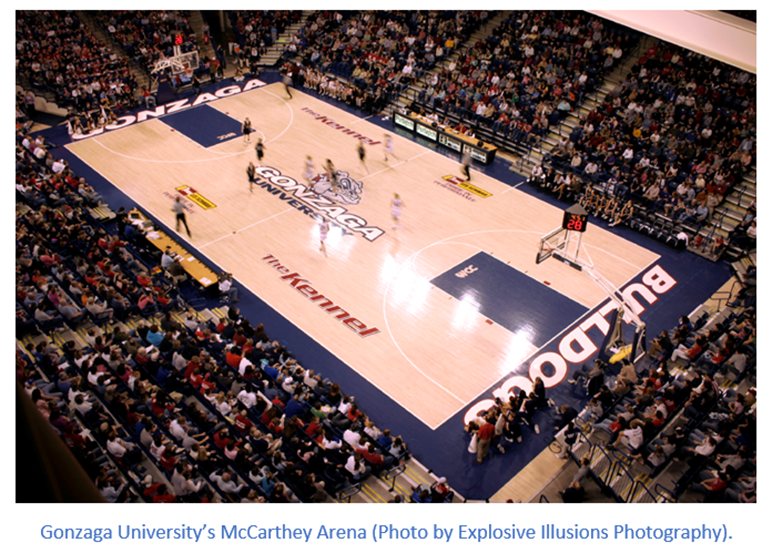 CLT AND ACOUSTICS
Other vibration isolation studies are currently underway for Cross Laminated Timber (CLT), a popular building material gaining traction across all types of projects.
"CLT is driving acoustical engineers a bit crazy right now because the main aspect of a well-built apartment is removing footfall; and CLT poses a challenge because (architects and developers) want to expose the wood," Erik says. "I can't just ask, 'how much does this vibrate?' We have to go off limited information."
Dean Lewis, DCI Senior Project Manager and member of the ANSI/APA PRG 320 committee that oversees the development of the CLT standard, confirms that "STC and IIC ratings for CLT is a knowledge gap," but adds, "There's a lot of research going on…sensitive research that suppliers are keeping very close."
"The number of possible assemblies and associated products are endless and the rush is on for each project team to determine the most cost effective, easy-to-install and performance-achieving assemblies. Each team then tends to hold these designs private to use as leverage over other competitors," says Nick Sills, Detailing Department Supervisor with Structurlam Products. "The CLT suppliers have minimal to no involvement in any of these tertiary buildups, but are happy to suggest functional systems they've seen integrated with their buildings before."
The relevancy of that information is because the weight and materials used for the floor assembly affect the vibration characteristics for CLT, along with other assembly connection details that can minimize sound/vibration transmissions.
"Whether the floor assembly has gypsum board on the underside of the floor and any other materials will help add to the floor's fire rating. On the other hand, typically the CLT floors are looking to be left exposed in multi-family projects and typically these projects are Type V or Type III in which the assembly needs to have a UL rating—only a couple suppliers have this and they are holding it tight to their chests—or meet this rating by the method of charring or additive methods as allowed by the code."
Despite having to add about three inches of materials on top to get an appropriate STC rating, CLT framing is still thinner than conventional framing and can shave one foot and six inches of building height on five stories of framing, which the developer can then put back into the building to increase floor-to-ceiling height, Dean points out.

LOOKING FORWARD
Erik says focusing on structural movements caused by occupants moving about the building, along with surface and low-level vibrations, is probably the biggest area of focus moving forward in his work with structural engineers.
"I see it becoming more common place," he says, "having a better understanding of vibration analysis and how it transfers through structures."
By putting all the pieces together, structural and acoustical engineers can further develop models for optimum building acoustics and vibration while demonstrating the advantage of coordinating project discipline efforts – resulting in a truly successful project.